Music
'THE FINAL ROUND TOUR'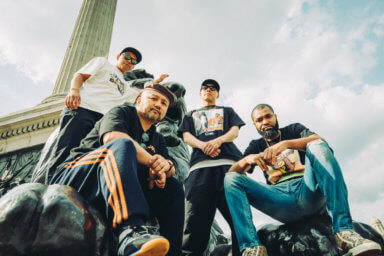 In celebrating its 30th anniversary and forthcoming retirement, the international Mighty Crown sound system on Wednesday announced "The Final Round Tour."
"These highly anticipated performances will provide fans around the world with one last chance to enjoy the award-winning, eight-time world champion sound in action," said the sound company in a statement. "'The Final Round Tour' will bring concertgoers up close and personal with the high caliber music, dubs and personalities of one of the industry's most successful sound systems."
"The Final Round Tour" will touch down in Canada, United Kingdom, United States, the Caribbean and Japan.
The "Early Juggling" leg of the tour kicks off March 17-22, 2023 in Japan, amidst performances of epic proportions with star DJ and radio personality David Rodigan.
"This dynamic duo has rocked many stages over the years; and, given their history and well-respected show track record, it will be nice to see them deliver music magic to audiences for a final time," Mighty Crown said.
Very select performance dates are available March – June 2023. Longtime manager Garfield "Chin" Bourne of Irish and Chin encourages interested promoters to make contact soon, as dates are filling up quickly and there is only one booking per city.
"The electrifying tour will give promoters an opportunity to be a part of sound system history, while fans get a chance to go down memory lane with the certified sound killers and master jugglers," Mighty Crown said.
Made up of Masta Simon, Sami T, Cojie and Ninja, for over three decades, Mighty Crown has entertained the masses with top notch sound clashes and shows, rooted in reggae and dancehall music.
Maintaining close connections to Jamaica, the renowned sound that originated in Yokohama, Japan, displays respect for the amazing island's robust music and culture in each performance.
Active for over 30 years, the Mighty Crown international sound system (l to r Masta Simon, Sami T, Cojie and Ninja) will retire the sound following their Far East Reggae Cruise in July 2023. Photo. by Mighty Crown Entertainment
Mighty Crown has amassed fame and achieved many accolades over their storied journey. In an iconic career moment, "The Far East Rulaz" were hand-picked by Japan's late Prime Minister Shinzō Abe to attend and perform at an exclusive, invite-only dinner welcoming Jamaica's Prime Minister Andrew Holness to Japan.
Much to their credit, Mighty Crown is also featured throughout Caribbean-focused media and mainstream music and fashion outlets, including Rollingstone, Billboard and GQ.
In addition, Mighty Crown's myriad of businesses and commercial ventures have catapulted the sound to a prime position, worth further cultivating.
The sound system now represents the smaller component of its brand.
It said retiring the sound allows 100 percent focus on other business sectors, such as record label, clothing line, event production and endorsements.
Although the sound may be playing its "Final Round," Mighty Crown said it will continue to make its mark as Asia's most prominent Reggae Ambassadors.
The renowned sound system has made history as the first to ever have a sneaker/shoe collabo.
Mighty Crown said the Far East Rulaz zesty shoe game is "impressive, raking in collabos with Nike, Mita Sneakers, Le Coq Sportif, Clae and Diadora."
Mighty Crown said it closed 2022 on an all-time high note, partnering with Clarks Originals for a second time.
From this union, Mighty Crown put its unique stamp on the classic Wallabees made popular by Jamaican music and culture, reggae in particular.
Notably, Mighty Crown became the first reggae act in the renowned footwear company's 200-year existence to get a full endorsement.
"The Final Round Tour" and 30th anniversary commemorations will officially conclude with the "Far East Reggae Cruise" – Asia's first ever reggae-themed cruise on Jul. 15-20, 2023.
"Now booking, the cruise will serve as the ultimate farewell event for Japan's premiere reggae act," Mighty Crown said.
It said sailing from Japan to Korea aboard the luxurious MSC Bellissima (operated by MSC Cruises), the "Far East Reggae Cruise" will "offer cruisers Asia with a Reggae twist."
Mighty Crown said the stellar, five-day themed cruise will feature performances from leading Japanese and Jamaican artists and sound systems.
For more information, contact Junior Wellington at [email protected]; 860-916-1315 (direct/whatsapp).