News
Patrice Roberts strikes pending deal with Sovereign Brands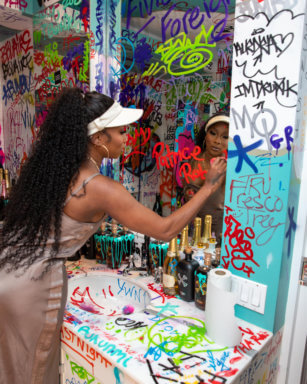 Trinidadian Patrice Roberts is the first soca artist to meet with luxury wine and spirits company, Sovereign Brands, at its New York City headquarters, in a pending deal, according to the Brooklyn-based entertainment publicity company, PlaybookMG.
"This opens the door for many other soca artists to crossover into the global business market," Jada Langdon, a junior publicist at PlaybookMG told Caribbean Life.
"Soca artists are breaking the barriers internationally, as soca begins to be distinguished to the mainstream," she added. "First, Grenadian artist Mr. Killa produced the theme song for Bravo's new series 'The Real Housewives Ultimate Girls Trip', currently streaming on Peacock.
"Now, soca sweetheart Patrice Roberts has sat down with the executives of wine and spirits company Sovereign Brands in New York City," continued Langdon, stating that Sovereign Brands is the home of popular brands, such as Luc Belaire, Bumbu Rum Co, McQueen and the Violet Frog, and Villon.
She said notable brand ambassadors include Rick Ross, Lil Wayne, Wiz Khalifa and DJ Khaled.
Langdon said Roberts had a photo shoot Sovereign's headquarters, capturing content in the Belaire Vanity Room, the Bumbu Co Rum Wall, and two-bathroom spaces covered in Belaire bottles, with props such as a basketball rim, mini rum cellar and a bathtub filled with colored balls.
"She enjoyed the complimentary tasting of Bumbu Rum Cream and the Luc Belaire Bleu champagne debuted by rapper Gucci Mane," Langdon said. "At the end of her visit, Patrice hopped on the viral TikTok trend 'Another One Thank You,' creating shots of her playfully drinking Bumbu Co Rum and Belaire bottles as a brand deal is currently pending."
Roberts, who was born on April 11, 1986, currently performs alongside popular fellow soca artist Machel Montano in his band, Machel Montano HD, according to Wikipedia, the online encyclopedia. She is also a second cousin of singer Bunji Garlin.
Roberts came to national attention in 2005 with the hit collaboration "The Islands," alongside Garlin.
In her early career, Roberts first won the 1995 Sangre Grande Junior Calypso Monarch competition, Wikipedia said.
In 2000, it said she became a top finalist in the competition, marking her ascent in the calypso arena.
The next year, Roberts became the National Soca Monarch, the National Library Calypso Monarch and the National Junior Calypso Monarch in Trinidad and Tobago, Wikipedia said.
It said she again won the National Junior Calypso Monarch in 2002. Other achievements include Toco Personality Winner 2000 and U.N.D.P. second-runner up 2001.
Roberts has also competed in the International Soca Monarch in Trinidad and Tobago on several occasions. In 2006, she placed second alongside Zan with the track "Always Be" in the "Groovy" category, according to Wikipedia.
It said her collaboration with Machel Montano, "Light it Up", placed 4th in the "Power" category in 2007.
The next year, she placed second in the "Groovy" category, with her song "More Wuk," Wikipedia said.
"Her greatest achievement so far has been winning the 2006 Road March competition with the song 'Band of the Year' sung with Machel Montano," Wikipedia said.