News
Mayor donates container of supplies for volcano-ravaged St. Vincent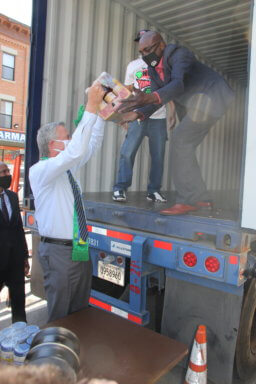 New York City Mayor Bill de Blasio on April 20 donated a container and two van loads of relief supplies for volcano-ravaged St. Vincent and the Grenadines, saying that Vincentians should not be left alone to grapple with this monumental natural disaster.
"We have a special perspective as New Yorkers. COVID-19, we went through that shock, we went through that pain," said de Blasio at a handing-over ceremony at the Friends of Crown Heights Educational Center in Brooklyn, which serves as the principal volcano relief base for Vincentians in New York. 
"New York City stands with you," added de Blasio, turning to Vincentians and other Caribbean nationals assembled under a tent outside the center. "You will not walk alone. We will walk besides you."
Vaughan Toney, the Vincentian-born president and chief executive officer of the Friends of Crown Heights Educational Center, who chaired the proceedings, thanked de Blasio for his generosity, stating that "the City of New York is once again rising to fulfill its reputation as the greatest city in the world by donating a mammoth consignment of desperately needed relief supplies to alleviate the suffering and displacement caused by the Soufriere volcanic eruption in St. Vincent and the Grenadines."
"Mr. Mayor, on behalf of the St. Vincent and the Grenadines Disaster Relief Committee and the wider community of Vincentian and other Caribbean-American nationals in New York, I am honored to say 'welcome' and 'thank you' for this generous outpouring of solidarity and support you are showing to the Vincentian people in their hour of need," added Toney, a member of the Brooklyn-based SVG Relief USA, Inc. 
"A catastrophe of the magnitude that is unfolding in St. Vincent and the Grenadines at this time requires an urgent and gargantuan international response, and you are leading the way in rising to meet the challenge of this moment," added Toney, who also recognized among the audience former New York City Council Member, Jamaican-born Dr. Una S.T. Clarke, the first Caribbean-born woman to be elected to New York City Council, as well as New York City Council Member Laurie A. Cumbo, the Council's Majority Leader. 
In addition to the standard shipping arrangements by sea, Toney said the Relief Committee is "currently making every effort to secure a military transport aircraft to expedite the delivery of these supplies to St. Vincent and the Grenadines. 
Cumbo – who represents the 35th Council District, which includes the communities of Fort Greene, Clinton Hill, Prospect Heights and parts of Crown Heights and Bedford-Stuyvesant in Brooklyn – disclosed that she and the City Council are working with Caribbean American Democratic Congresswoman Yvette D. Clarke, Dr. Clarke's daughter, and her Brooklyn counterpart, Congressman Hakeem Jeffries, "to get (military) transport to get supplies there (to St. Vincent and the Grenadines)."
St. Vincent and the Grenadines' New York Consul General Howie Prince told de Blasio and the gathering that "our country is still under attack so to speak.
"The devastation that the volcano has left in its path is mind-boggling," he said, adding that "the recovery will be a tremendous one." 
Verna Arthur, chairperson of SVG Relief USA, Inc., told Caribbean Life she was gratified with the Mayor's gesture. 
"Yesterday's event was, indeed, a heart-warming occasion," she said on April 21. "Thanks to Mayor de Blasio for his generous contribution to SVG Relief USA, Inc. relief effort, as we work feverishly to fulfill the needs of our brothers and sisters in St. Vincent and the Grenadines during these trying times."