News
Maya Wiley sees opportunity to 'reimagine' NYC as mayor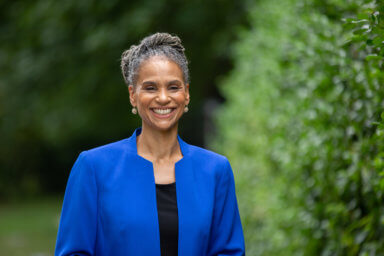 Maya Wiley says she is running for Mayor because she sees the opportunity to "reimagine" New York City "so that everyone can live with dignity."
"This means a city where every person can afford the roof over their head, where people feel safe walking down the street and riding the subway, and where Black and Brown people don't have to fear police violence," Wiley told Caribbean Life in an interview.
"We need to solve the homelessness crisis and prioritize mental health services for those who need them," added Wiley, stating that "we can't lose a generation of children to the trauma of violence and injustice in lack of opportunity."
The Mayoral prospect said she will build a recovery that lifts up all families and has the plans to make that a reality.
"New York City always recover; but, in the past, it hasn't recovered for everyone," she said.
With her in City Hall, "this city has a chance to actually fix what is broken and rebuilt as a stronger, more equitable city for all."
When asked about her prospect of success in the crowded field of candidates, Wiley said New Yorkers are looking for "a changemaker in a time of crisis," making it clear that's exactly who Maya is – "a transformational leader who has gotten results inside and outside of government."
Wiley said she has proven that she can pull together the diverse coalition that has won citywide elections in the past, pointing to "the strong support of Brooklyn Democratic Congresswoman Yvette D. Clarke; her Jamaican-born mother, former New York City Council Member Dr. Una S.T. Clarke; 1199 SEIUl; Emily's List; Higher Heights for America; as well as well-known leaders, scholars, celebrities and elected officials.
In the crowded field, Wiley noted that she is "always mentioned in the top tier of candidates."
In making a difference, Wiley said she recognizes that "things were broken long before COVIDA," but added that she will "create a city that benefits everyone with recovery that reaches every corner of the five boroughs."
As Mayor, she said she will solve the homelessness crisis, create jobs, transform schools, and "put the public back in policing and public safety."
In addition, Wiley said she will "prioritize mental health, and make sure we don't lose a generation of children to violence and lack of opportunities."
Her plans call for the creation of 100,000 jobs, $5000 for the most in need caregivers, community care centers that serve children and the elderly, expansion of Minority and Women-Owned business contracting, and affordable housing that is "truly affordable."
Wiley said she knows that communities are the experts in their own needs and will "lead through partnership to ensure that every voice is represented in City Hall."
As a nationally-recognized racial justice and equity advocate, Wiley prides herself in being a leader in city government and in spurring democratic change.
As Counsel to the Mayor, she said she delivered for New York City on civil and immigrant rights, women- and minority-owned business contracts, and universal broadband access, among other things.
After leaving City Hall, Wiley said she held police accountable as chair of the Civilian Complaint Review Board, and worked to improve public education as a co-chair of the School Diversity Task Force.
At the New School, where she served as a university professor, Wiley founded the Digital Equity Laboratory on universal and inclusive broadband.
She is a veteran of both the NAACP Legal Defense and Education Fund and the ACLU, was a former Legal Analyst for NBC News and MSNBC — where she argued against Trump's attacks on our civil liberties and democratic norms — and was the founder and president of the Center for Social Inclusion.
Wiley was also Senior Advisor on Race and Poverty at the Open Society Foundations, the largest funder of human rights work the world over.
She stressed that she is strongly "committed to a New York City, where every New Yorker can afford to live with dignity."
"That's why I'm running for Mayor," Wiley accentuated.