News
Vincentian to be inducted into US Coast Guard Academy Hall of Fame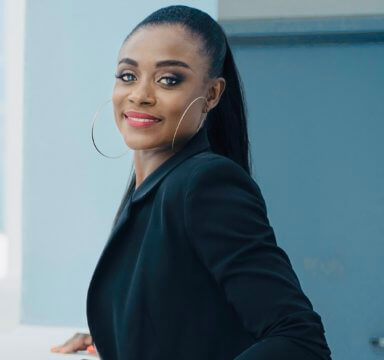 The United States Coast Guard Academy (USCGA) recently announced that Vincentian national Dr. Jacqueline "Jackie" James-Lyttle will be inducted along with five other new members into its Athletic Hall of Fame on Oct. 7 during the academy's Hall of Fame Banquet.
The New London, Ct-based academy said Dr. James-Lyttle ('00) will be inducted alongside all-American track star and baseball player Chuck Arena ('07), all-American swimmer Bobby Brown; Al Sowers, who led the men's basketball team to the Elite 8 in 2008; and football standout Al Thompson ('98).
Women's basketball's all-time leading scorer and rebounder Melissa Martinelli ('10), who was selected in 2019, but could not make the ceremony, will also be inducted in 2021, USCGA said in a statement.
"It is an honor and privilege to announce the addition of these six extremely talented individuals to the Coast Guard Academy Athletic Hall of Fame," said USCGA Director of Athletics Dr. Dan Rose. "This is a remarkable slate of inductees from top to bottom, and their athletic accomplishments resonate on a national level."
USCGA said that Dr. James-Lyttle was a two-time All-American on the track, earning the honor during the indoor season in 1999 in the 100 meters before placing second in the 55 meters during the 2000 indoor season. She holds the school record in the 100 meters outdoors (12.22) and previously held Coast Guard Academy records in the 55, 100 and 200 meters. 
Dr. James-Lyttle was the school record holder on two relays when she graduated, and was the 2000 New England 100-meter champion.  She also won the Eastern College Athletic Conference (ECAC) Award for scholarship and athletic prowess.
USCG said that when Dr. James-Lyttle arrived from St. Vincent and the Grenadines, as an international cadet at the academy for "swab summer" in 1996, little was known about her. During her time there, USCG said she came out for track. 
"We were very lucky that such a talented student-athlete fell into our lap," said Dr. Rose, the Head Track coach at the time. "She made an immediate impact in her first indoor track season. Jackie was born with great talent and, over her cadet athletic career, she cultivated that talent becoming a nationally-ranked sprinter."
During her four-year collegiate athletic career, USCG said she won numerous track and field awards and honors. 
She was awarded the Women's Auxiliary Fleet Award for greatest impact on varsity athletics by a female cadet at the Coast Guard Academy; the Eastern College Athletic Conference Award for scholarship and athletic prowess; the United States Coast Guard Academy Coaches Award for outstanding contributions in women's indoor track; and the United States Coast Guard Academy Athletic Association Monogram Award for outstanding participation in women's outdoor track; in addition to earning the title of All American in Track and Field in both 1999 and 2000. 
Dr. Rose said this list of awards is rarely collected by a single athlete.
"Jackie James took home a truckload of awards because she was truly that talented," he said. 
Dr. Rose said Dr. James-Lyttle held the school record in the 200-meter dash, with a time of 26.20, until it was finally broken this year, and continues to hold the outdoor 100-meter record of 12.22 from 1999. 
"Jackie James is truly one of the most phenomenal athletes that the Coast Guard Academy has ever seen," Dr. Rose said. 
But while Dr. James-Lyttle's athletic prowess was unfathomable for most, Rose said "it is only a small part of who Jackie is." In addition to her outstanding student athletic career, Dr. James-Lyttle excelled academically. 
She was an outstanding civil engineering student and, in 2000, was the first Black female engineering graduate from the USCGA, where she earned her Bachelor of Science degree in civil engineering (Summa Cum Laude), Rose said. 
Continuing to further her education after accomplishing this milestone, she attended the University of Miami and received her Master of Science in architectural engineering and a Ph. D. in civil and architectural engineering from the same university. 
During her time at the University of Miami, James-Lyttle was honored with the title Featured Graduate in 2005 for her contributions to "Novel Work on Sustainability." 
From 2005-2006, Dr. James-Lyttle returned to USCGA on the Booz- Allen Hamilton, Visiting Faculty Fellowship and taught as a visiting professor in the Civil Engineering Section, Rose said. 
He said she made an immediate positive impact at USCGA not only in the classroom but also back on the athletic field. 
Rose said Dr. James-Lyttle volunteered as an assistant track and field coach and "immediately connected with the CGA sprinters as a coach and mentor."
"Our cadets looked up to her as someone that had been through the 200-week program and was successful academically, athletically and professionally," Dr. Rose said. 
Unfortunately for the USCGA, he said Dr. James-Lyttle's fellowship ended, and she returned to Miami, where she began her lucrative professional practice and blossomed as an entrepreneur. 
In 2007, Dr. James-Lyttle founded IMARA Engineering Consulting, and currently practices in South Florida. 
In that same year, she started co-managing her husband Kevin Lyttle's musical career and co-founded Tarakon Records with him. Lyttle is a Vincentian-born multi-platinum-selling, international soca artist.
In addition, she is currently designing a massive, premiere entertainment complex in St. Vincent and the Grenadines.
In 2011, Dr. James-Lyttle was honored as a trailblazer by the Miami Commission on the Status of Women. A year later, she was chosen as one of the women who have made outstanding contributions to the University of Miami community.
In 2014, Dr. James-Lyttle was named one of Miami Dade County's 25 most influential and prominent Black women in business and leadership. The next year, she was presented with the Visionary Award by the Brooklyn-based, Vincentian philanthropic group, Vincy Cares, Inc.
In 2017, Dr. James-Lyttle was honored by DDEA organization as a humanitarian for work done with the Janice Lyttle Foundation. She also sits on the board of Recapturing the Vision and The Galleon Foundation.
"Dr. Jacqueline 'Jackie' James-Lyttle defines success," Dr. Rose said. "She epitomizes a Hall of Fame member. 
"She contributed to CGA Athletics as a cadet and as a professional, and she continues to demonstrate the drive and leadership that were cultivated in her athletic career as a leader and professional in numerous arenas," he added.  
Dr. James-Lyttle told Caribbean Life that her induction in the USGCA Athletic Hall of Fame is "quite an honor.
"I got involved in track and field because I was told that I was 'fast,'" she said. "It became my ticket to acceptance into the academy on account of being good at the physical part of the Coast Guard Academy's entrance exam. It, thereafter, became a part of who I am, because it provided me with the discipline, personal growth, leadership skills and confidence I needed to succeed at the academy and beyond. I am so blessed."
The post Vincentian to be inducted into US Coast Guard Academy Hall of Fame appeared first on Caribbean Life News.