World
GCA cultural director receives Medal of Service award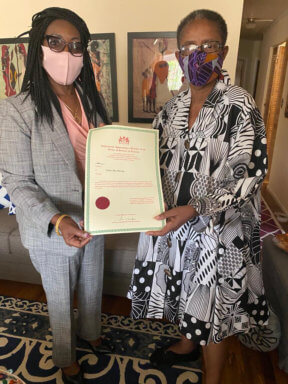 Claire Ann Goring, cultural director of the Guyana Cultural Association of New York Inc., accepted the Medal of Service Award, from Consul General of Guyana to New York, Barbara Atherly, on behalf on the former Coalition Government, during a recent ceremony at the costume designer's studio in Brooklyn.
"I would like to thank you, Consul General Barbara Atherly, my family members, my friends, and members of the Guyana Cultural Association of New York, Inc. for acknowledging my work. I am grateful to you for considering me worthy of this national award," said Goring.
The cultural ambassador, who has headed the Annual Folk Festival in Brooklyn for many years, was among other Guyanese at home and abroad, who were honored in commemoration of Guyana's 50th Republic Anniversary in February 2020, but was delayed in receiving her award, due the coronavirus pandemic.
Claire Goring was the first woman to present a costume band under Solo Productions Mas in Guyana back in the 70s and 80s. She is also an innovator and creative genius in all aspects of Guyana's arts festival.
The multifaceted artist, whose carnival costumes lit up the streets of Guyana at Mashramani parades in commemoration of Republic, is the only designer whose work has garnered multiple awards in Guyana and in the diaspora, and showcased at the Labor Day Carnival on Eastern Parkway.
Goring's creative stage sets, festival layouts, themed entertainment creations, iconic figurines, invitation wedding, greeting and holiday card collections, journal designs, and funeral programs, continues to be centerpieces of the community.
A recipient of a New York City Council Proclamation from Brooklyn Borough President, Eric L. Adams, and other citations, Goring was also presented with the Humanitarian Award for her philanthropic endeavors to Guyana, and the Diaspora, from Chronicle Atlantic Symphony Steel Orchestra & Troupe, at its 50th Anniversary celebration, in Brooklyn.
The artist, whose phenomenal work spans over sixty years, and is documented, and celebrated in many quarters, was deserving of the Medical of Service, one of Guyana's highest honors.
Thanks to legendary artiste and radio personality, Margaret Lawrence, and the previous government of Guyana, Goring stands tall with this honor that will be added to her many accolades. It pays tribute to the historic contributions she continues to make in Guyana's folk culture.
The Guyanese community would like to congratulate Claire A. Goring on this outstanding achievement.
The post GCA cultural director receives Medal of Service award appeared first on Caribbean Life News.