World
VP candidate Kamala Harris' Jamaican father much more than a footnote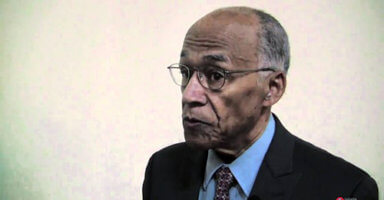 While United States Sen. Kamala Harris' Jamaican-born father, Dr. Donald Harris, may be a footnote in her speeches, as she accepted last week the vice presidency for the Democratic Party in the Nov. 3 US Presidential Elections, the elder Harris is a distinguished economics professor emeritus at Stanford University in California.
According to the university's website, Dr. Harris, who was born on Aug. 23, 1938, was appointed Emeritus Professor in 1998.
"Donald Harris joined the Stanford faculty in 1972, coming from the University of Wisconsin (Madison), where he had been appointed tenured professor three years after graduating from the University of California (Berkeley)," Stanford University said.
"At Stanford, he was a leader in developing the new program in "Alternative Approaches to Economic Analysis" as a field of graduate study," it added. "For many years, he also taught the popular undergraduate course 'Theory of Capitalist Development.'"
Stanford University said Dr. Harris's research and publications have centered on exploring the analytical conception of the process of capital accumulation and its implications for a theory of growth of the economy, "with the aim of providing thereby an explanation of the intrinsic character of growth as a process of uneven development."
From this standpoint, the university said Dr. Harris "has sought to critically assess the inherited traditions of economic analysis, as well as contemporary contributions, while engaging in related empirical and historical studies of various countries' experience."
Stanford University said Dr. Harris has travelled widely, doing research, consulting, or giving seminars and invited lectures, in the Caribbean and in Canada, England, Holland, France, Italy, Brazil, Colombia, Mexico, Costa Rica, Guatemala, Kenya, Tanzania, Zambia, India, Malaysia, Singapore, Hong Kong and Thailand.
"Throughout his career, he has had a continuing engagement with work on the economy of Jamaica, his native country," it said. "He served there, at various times, as economic consultant to the Government of Jamaica and as economic adviser to successive prime ministers."
Stanford University said Dr. Harris took early retirement from in 1998 "in order to pursue more actively and practically his long-standing interest, which originally motivated him to take up the study of economics, in developing public policies to promote economic growth and advance social equity."
According to Sen. Harris, 55, in her 2019 publication, "The Truths We Hold: An American Journey," her father was born in St. Ann's Bay, Jamaica, as the son of Beryl Christie (Finnegan through her second husband) and Oscar Joseph Harris.
Stanford University said Dr. Harris was an assistant professor at the University of Illinois at Urbana–Champaign from 1966 to 1967 and at Northwestern University from 1967 to 1968.
In 1968, he moved to the University of Wisconsin–Madison as an associate professor; and, four years later, he joined the faculty of Stanford University as a professor of economics.
The university said Dr. Harris directed the Consortium Graduate School of Social Sciences at the University of the West Indies in 1986–1987; and was a Fulbright Scholar in Brazil in 1990 and 1991, and in Mexico in 1992.
Dr. Harris received a Bachelor of Arts from the University College of the West Indies–University of London in 1960.
Three year later, he moved to the United States to earn a Ph. D from University of California, Berkeley, which he completed in 1966.
Dr. Harris's doctoral dissertation, "Inflation, Capital Accumulation and Economic Growth: A Theoretical and Numerical Analysis," was supervised by econometrician Daniel McFadden, Stanford University said.
Dr. Harris is the author of the economics monograph, "Capital Accumulation and Income Distribution," published in 1978 by the Stanford University Press.
He has also published several books on the economy of Jamaica, including "Jamaica's Export Economy: Towards a Strategy of Export-led Growth" (Ian Randle, 1997)" and "A Growth-Inducement Strategy for Jamaica in the Short and Medium Term" (edited with G. Hutchinson, Planning Institute of Jamaica, 2012).
In her 17-minute acceptance speech last Wednesday night during the virtual Democratic National Convention, Sen. Harris, whose mother was Indian-born, said her nomination was "testament to the dedication of generations" before her.
"Women and men who believed so fiercely in the promise of equality, liberty and justice for all," she said, noting that last week marked the 100th anniversary of the passage of the 19th Amendment of the US Constitution, which guaranteed women's right to vote.
"Yet, so many of the Black women who helped secure that victory were still prohibited from voting, long after its ratification," she added. "But they were undeterred. Without fanfare or recognition, they organized, testified, rallied, marched and fought — not just for their vote but for a seat at the table.
"These women and the generations that followed worked to make democracy and opportunity real in the lives of all of us who followed," Harris continued. "They paved the way for the trailblazing leadership of Barack Obama and Hillary Clinton. And these women inspired us to pick up the torch — and fight on."
Among those women, she said, were Mary Church Terrell; Mary McCleod Bethune; Fannie Lou Hamer; Diane Nash, Constance Baker Motley; and Shirley Chisholm, a late US congresswoman, whose parents hailed from Barbados and Guyana, and who represented the then 12th Congressional District in Brooklyn.
In 1972, Chisholm, became the first Caribbean and African American candidate to seek nomination from a major US political party for President of the United States.
"We're not often taught their stories," said Harris of the trailblazing women. "But, as Americans, we all stand on their shoulders."
Harris also invoked another woman, "whose shoulders I stand on.
"And that's my mother — Shyamala Gopalan Harris," Harris said, stating that her mother came to America from India at 19 to pursue her dream of curing cancer.
She said her mother met her father at the University of California Berkeley, who had come from Jamaica to study economics.
"They fell in love in that most American way — while marching together for justice in the civil rights movement of the 1960s," Harris disclosed.
The post VP candidate Kamala Harris' Jamaican father much more than a footnote appeared first on Caribbean Life News.