News
Calvary's Mission food pantry at the forefront of COVID-19 pandemic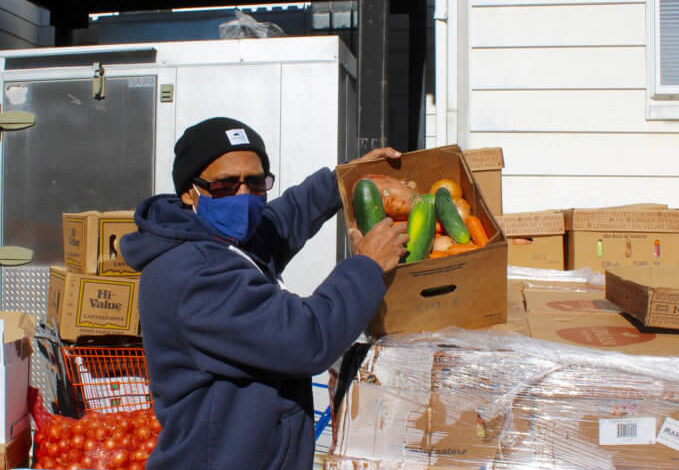 Long lines stretching for blocks with residents wearing surgical masks and carrying shopping carts, have become overwhelming outside Calvary's Mission Food pantry at 102-16 89th Ave., Richmond Hill, Queens, due the coronavirus pandemic, that has left families with no other choice but to join the food lines for weekly nutrition.
Last Saturday, Tony Singh, a Guyanese-American entrepreneur and humanitarian, who founded the pantry over two decades ago, was happy to serve 1200, mostly immigrants, who lined-up, early morning to receive sacks of potatoes, onions, carrots, cabbage, sandwiches, milk, hamburger patties, cheese, apples, and baby formula, among other food items, to feed a family for one week.
Over the years, the line has grown from 500, and today, the number has climbed exponentially, due to the unprecedented COVID-19 pandemic, causing Singh to up, the intake of food, thanks to partners like the New York Food Bank, City Harvest, Target, Starbucks, and other donors, who have helped the pantry to meet target numbers.
Singh says because of the outpouring of families on a weekly basis, a ticket system had to be put in place with time-slots, starting at 8:30 am until 11 am, to make sure everyone leaves with a guarantee, shopping cart of food worth approximately $50.
"It's a blessing to give, and especially when you are a part of an organization that is helping people in need. Over the years, I have met so many people who reach out to me when they need anything special," said Singh who arrives at the pantry promptly at 4 am to accept deliveries every Saturday.
He thanked Pastor Kemraj and the church board for allowing the pantry to operate from its facilities. "We collaborate with church members," he said, thanking volunteers and others who faithfully show up to pack hampers, serve, cleanup and keep the overall operation running smoothly.
The pantry expects a larger turnout at its annual, Saturday before Thanksgiving giveaway of hampers, that will include turkey, chicken, and ham, with all of the trimmings of vegetables, fruits and protein, for a hearty traditional meal.
Singh is reaching out to anyone in need of food, to visit the pantry, where all CDC guidelines of wearing a mask and standing six feet apart, are followed.
He said he was thankful for all of the volunteers who were dedicated to the cause of helping to feed those in need including Kevin Sookdeo, Lennox, Rudy, Roger, Mr. Bill.
Prominent Guyanese-American fashion designer and entrepreneur, Roger Gary, who has volunteered at the panty for the past 15 years, was on Saturday, busy directing the long lines at the intersection of 89th Avenue, leading up to the pantry.
He explained that due to the pandemic, many people were out of jobs. "We have been providing food, to sometimes 1500 clients. It is overwhelming," said Gary, who is concerned for the neighborhood that is overrun with the weekly disturbances of deliveries, and the bustle of people with shopping carts, and mindful that there is order, and limited noise nuances during the hours of distribution.
During the distribution, a woman was overheard saying God is good, he provides for us. A clear indication of how grateful the community is for the weekly nourishment.
To learn how to make a donation, volunteer, or receive food, visit Calvary's Mission Food Pantry/FB page.
The post Calvary's Mission food pantry at the forefront of COVID-19 pandemic appeared first on Caribbean Life News.