World
Young Bajan footballer now a pro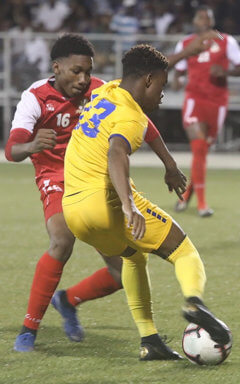 From representing his country against Bermuda for the first time at age 15, Barbadian footballer Thierry Gale has now, three years later, catapulted himself into the professional game in Europe by signing a deal with Hungarian Club Budapest Honvéd.
According to Barbados media reports, the speedy Barbadian forward will from this year be on a three-year professional contract with the with eight-time Hungarian Cup champions for an undisclosed fee.
The teenager who is already a senior on the Barbados national team has scored twice for his country and has so impressed as a dangerous striker that his play attracted attention of the Hungarian top team.
"This is what I was waiting for my whole life," the youngster said, adding that playing in the national team shaped him for the rigors of the professional, "as a junior, it wasn't so rough but in the senior team, it was more difficult because I didn't have many chances to play because I was young. So, I just come off the bench sometimes but I didn't give up, I just kept working hard and then earned my play."
He also credited the stern and intense training that his father Dwayne Gale, himself a former national footballer put him through.
"My father is tough. Like sometimes if I play and I don't perform or I argue with the referee or something, he would 'kill' me at times but otherwise, he is very nice, very good, we are very close."
The elder Gale who debuted for the national team, Barbados Tridents, and 16 and even had a stint with a European club overseas said he had been training his son for 13 years since the youngster indicated a love for the game at age five.
"He always wanted to be a professional footballer," the father said.
"I always tell Thierry you should keep rising to a certain occasion every year. So, if you do 50 percent in 2013, make sure you do 60 percent in 2014. The point is year by year you should keep improving and developing."
The post Young Bajan footballer now a pro appeared first on Caribbean Life News.