News
Year in Review: Caribbean community's top stories in 2021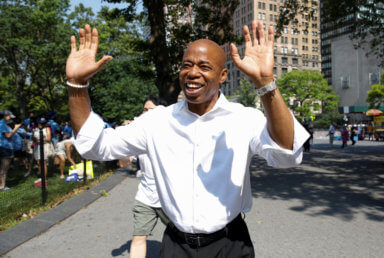 As 2021 draws to a close, we reviewed some of the top stories that affected the Caribbean community in the US Diaspora, particularly in New York, ranging from the Venezuelan refugee crisis to New York City Mayor-elect Eric Adams' decision to postpone his indoor inauguration in the heart of the Caribbean community in Brooklyn amid the spike in COVID-19 cases.
In January, the Washington, D.C.-based Organization of American States (OAS) warned in a new report that the number of Venezuelan refugees and migrants could rise to 7 million in 2021 if regional countries reopen their borders and the government in Venezuela remains in place. 
"The Situation Report" highlights that the COVID-19 pandemic worsened the Venezuelan migration crisis in 2020. The report notes that, before the arrival of the pandemic, about 5,000 Venezuelans fled their country daily. It also underscores that 2020 concluded with a total of 5.4 million Venezuelans exiled. 
Also in January, Caribbean American former United States Senator Kamala Harris created history when she was sworn in as US vice president by US Supreme Court Justice Sonia Sotomayor.
Harris, the daughter of a Jamaican father and an Indian mother, became not only the first Caribbean American to hold the US vice president office but also the first Black and Indian American to do so.
She was sworn in 212 years after John Adams became America's first vice president. 
In November 2020, after four years of tumultuous rule by Republican Donald Trump, Democrats Joe Biden and Harris were elected president and vice president, respectively.  
"There is icing on this cake for all Jamaicans, because we can't be more proud of the fact that the US Vice President-elect Kamala Harris has strong Caribbean roots," said veteran New York State Assemblyman Jamaican N. Nick Perry in a Caribbean Life interview. "May God bless and keep our new president-elect and vice president-elect safe and healthy, as we prepare to march them into the White House. God bless America!" 
In February, two immigration advocacy groups in New York called on newly-elected Biden to intervene immediately in stopping what they described as the mass deportation of Haitians.
The New York Immigration Coalition (NYIC), an umbrella policy and advocacy organization for more than 200 groups in New York State, and the Brooklyn-based Haitian Women for Haitian Refugees said that, since Feb. 1, the US Immigration and Customs Enforcement (ICE) agency has deported roughly 300 Haitians. 
"ICE's aggressive approach is in line with the Trump-era policy of targeting Black migrants," said the groups in a statement, demanding "the immediate intervention from the Biden White House." 
The reported mass deportation came as a major Haitian immigration advocacy group in Miami in mid-December 2020 wholeheartedly welcomed the United States' extension of Temporary Protected Status (TPS) for nationals from Haiti until Oct. 4, 2021.
The US Department of Homeland Security (DHS) announced in December that it was also extending TPS, until the same time, for beneficiaries from El Salvador, Honduras, Nepal, Nicaragua and Sudan.
Later in February, Congresswoman Yvette Clarke joined California Congresswoman Linda T. Sánchez and New Jersey Senator Bob Menendez in introducing the bicameral United States Citizenship Act of 2021 that seeks to overhaul America's immigration system. 
The Act is in keeping with Biden's "bold, inclusive and humane" plan for the future of the United States immigration system, opening up a pathway to citizenship for millions of Caribbean and other immigrants 
The legislation would provide millions of hardworking, undocumented Caribbean and other immigrants a pathway to earned citizenship, including Dreamers, TPS recipients and "essential workers who have made enormous sacrifices during the pandemic."
The measure would also prioritize family reunification, keeping families together; and bolster the country's long-term economic growth. 
As Americans in February celebrated Black History Month, Clarke also introduced a resolution the US House of Representatives calling for the exoneration of Jamaica's first national hero and human rights activist Marcus Mosiah Garvey. 
The congresswoman highlighted Garvey's accomplishments, identifying him as a champion for the liberation of people of African descent.  The resolution, H. Res. 148, hails Garvey as a human rights activist and seeks to preserve his legacy by exonerating him of unfounded charges brought against him by the US Government. The resolution also called on President Biden to exonerate Garvey. 
The BOI began investigating Garvey on unfounded charges of mail fraud. 
In April, the United Nations said that the explosive eruptions of La Soufrière volcano in St. Vincent and the Grenadines had left the entire population of the main island without clean water and electricity. 
The UN said that although the volcano had been dormant since 1979, it started spewing smoke and actively rumbling in December 2020.
The explosive eruptions blanketed mainland St. Vincent in a layer of ash and forced some 16,000 residents to evacuate their homes to safer parts of the island. 
At the request of Prime Minister Dr. Ralph E. Gonsalves, the UN said it had mobilized experts through the UN Environmental Program (UNEP) to develop and implement a debris management plan, including to clean up ash, and to promote environmental health and safety.
In late April, the US Department of Justice (DOJ) announced that a former Minister of Industry and elected member of Parliament of Barbados was sentenced to two years in prison for his role in a scheme to launder bribe payments from a Barbadian insurance company through bank accounts in New York. 
The DOJ said Donville Inniss, 55, a US lawful permanent resident who resided in Tampa, Fl., and Barbados, was convicted by a federal jury of two counts of money laundering and one count of conspiracy to commit money laundering on Jan. 16, 2020. 
According to the evidence presented at trial, in 2015 and 2016, Inniss took part in a scheme to launder into the United States about $36,000 in bribes that he had received from high-level executives of the Insurance Corporation of Barbados Limited (ICBL). 
In exchange for the bribes, Inniss leveraged his position as the Minister of Industry to enable ICBL to obtain two insurance contracts from the Barbados government to insure over $100 million worth of government property. 
In early May, the Joe Biden administration reaffirmed its "unwavering commitment" to work with the 14-member Caribbean Community (CARICOM) group of nations. 
A White House statement said National Security Advisor Jake Sullivan spoke with then CARICOM Secretary General Irwin LaRocque and leaders from the CARICOM member-states. 
The White House said the Prime Minister and Foreign Minister of St. Vincent & the Grenadines and foreign ministers from Antigua & Barbuda, the Bahamas, Belize, Dominica, Grenada, Guyana, Jamaica, St. Lucia, St. Kitts & Nevis, Suriname, and Trinidad & Tobago, along with the Permanent Secretary of Barbados and the Premier of Monserrat, participated in the call. 
In mid-May, the clergy and other leaders of the Caribbean American Community in New York hosted a "Candles & Roses" memorial service to honor the victims of the COVID-19 pandemic.
According to the Rev. Gilford T. Monrose, the St. Croix, United States Virgin Islands (USVI)-born president of the Brooklyn Center for Quality Life, the memorial service, at the Bethesda Healing Center Church in Brooklyn, commemorated Caribbean Americans and others who lost their lives to the COVID-19 pandemic. 
Also in May, four United States congressional representatives announced the formation of the House Haiti Caucus, saying that the caucus will work towards addressing serious issues plaguing the French-speaking Caribbean country. 
They comprised Clarke, the daughter of Jamaican immigrants, who represents the 9th Congressional District in Brooklyn; Val Demings, of Florida's 10th District; Andy Levin, of Michigan's 9th District; and Ayanna Pressley, of Massachusetts's 7th District.
The congressional representative said there is no excuse to repeat past mistakes, stating that they will, instead, "lift and listen to the Haitian voices that must shape a democratic future that will serve all of Haiti's people, not the few."
Later in May, the Joe Biden administration announced a new 18-month designation of Haiti for TPS.
Secretary of US Homeland Security Alejandro N. Mayorkas said that the new TPS designation enables Haitian nationals – and individuals without nationality who last resided in Haiti – currently residing in the United States, as of May 21, 2021, to file initial applications for TPS, "so long as they meet eligibility requirements."
Stating that America's diversity is and always has been the defining strength of the nation, President Biden proclaimed June National Caribbean-American Heritage Month. 
"In every generation, our society, spirit and shared ambitions have been refreshed by wave after wave of immigrants seeking out their American dream," said Biden in a White House Proclamation. "Throughout our history, Caribbean Americans have brought vibrant cultures, languages, traditions and values that strengthen our country and add new chapters to our common story."   
In early June, Clarke and the Pan American Health Organization (PAHO) welcomed Biden's vaccine distribution to Caribbean and other countries. 
The US said it planned to send the first tranche of 25 million doses, including 19 million procured through COVAX, to countries around the world. 
This included "Approximately 6 million for South and Central America to the following countries: Brazil, Argentina, Colombia, Costa Rica, Peru, Ecuador, Paraguay, Bolivia, Guatemala, El Salvador, Honduras, Panama, Haiti, and other Caribbean Community (CARICOM) countries, as well as the Dominican Republic," the White House statement specified. 
A day after New York's Primary elections in June, victorious Caribbean candidates hailed the unofficial results, with ranked-choice voting, used for the first time in the city's elections, delaying the official declaration of a winner even up to mid-July, according to New York City Board of Elections. 
Among the Caribbean winners were New York Public Advocate Jumaane Williams, the son of Grenadian immigrants; Haitian American New York City Council Member Farah N. Louis for the 45th Council District; Haitian-born Rita Joseph for the 40th Council District; Crystal Hudson, the daughter and granddaughter of Jamaican immigrants, for the 35th Council District; and Haitian-born nurse Mercedes Narcisse for the 46th Council District. 
Flanked by elected officials, advocates and leading immigration service providers, Queens Borough President Donovan Richards, Jr. in June cut the ribbon for Queens Borough Hall's new Immigrant Welcome Center. 
Richards, who traces his roots to Jamaica, said more than one-third of New York City's three million immigrants reside in Queens, with nearly 50 percent of the borough's 2.4 million residents born abroad. 
Beginning with the Jun. 15 "soft launch" of the Immigrant Welcome Center and continuing into the future as capacity and the variety of available services expands, Richards said families contacting or visiting Queens Borough Hall will be connected with comprehensive, multilingual services, such as legal assistance and referrals to community-based organizations and city services. 
While expressing shock and sadness, Haitian American legislators in New York in early July strongly denounced the assassination of President Jovenel Moïse, who was killed in an attack on his private residence on the suburbs of Port-au-Prince, the Haitian capital. 
Interim Prime Minister Claude Joseph said in a statement that Moïse's wife, Martine Moïse, was also shot in the attack that involved a group of assailants. 
In the wake of the assassination of Haitian President Moïse and anti-government protests across Cuba, United States Secretary of Homeland Security Mayorkas issued a stern warning to Haitian and Cuban migrants not to attempt to come to the US.
Mayorkas told reporters, during a press briefing, that while the Biden administration supports the people of Haiti and stands in solidarity with the Cuban people, the United States is closely monitoring "any activity that may indicate increases in unsafe and irregular maritime migration in the Florida straits.
"The time is never right to attempt migration by sea," he said. "To those who risk their lives doing so, this risk is not worth taking. Allow me to be clear: if you take to the sea, you will not come to the United States."
In early August, Caribbean American legislators in New York joined other elected officials in calling on New York Gov. Andrew Cuomo to resign after a state investigation report found that the governor had fostered a culture of workplace misconduct and had sexually harassed numerous women.
Congresswoman Yvette D. Clarke, the daughter of Jamaican immigrants, joined Democratic members of the New York congressional delegation in renewing their call on Cuomo to step down.
"Let me be very clear, I reiterate my call for the governor to step down and applaud Attorney General (Letitia) James for conducting such a comprehensive investigation. Full stop," Clarke, who represents the predominantly Caribbean 9th Congressional District in Brooklyn, New York, told Caribbean Life. 
In mid-August, a Brooklyn-based umbrella organization calling itself Guyanese Organizations Against Racism (GOAR), which comprises 25 groups in the New York tristate area, hosted a massive march and rally in Brooklyn against alleged racism in Guyana.
The group had dubbed the march and rally "Guyanese Organizations Against PPP Apartheid Governance, Racism & Injustice".
It said the events were part of a series of activities it was hosting, to draw wider public awareness of alleged racism by the incumbent People's Progressive Party (PPP) Government in Guyana.
Later in August, United Nations Secretary-General António Guterres urged countries to step up support to Haiti, as the French-speaking Caribbean country recovered from a deadly earthquake under the clouds of a tropical storm. 
The 7.2 magnitude quake struck southwestern Haiti, killing more than 1,300 people. 
Thousands of homes, as well as hospitals, schools, churches, bridges and roads, were either damaged or destroyed, the UN said. 
Newly-installed New York Gov. Kathy Hochul announced in late August the selection of Caribbean American New York State Senator Brian Benjamin for lieutenant governor.
Benjamin, 44, the son of a Guyanese mother and Jamaican father, previously served as the New York State Senator for District 30, which encompasses Harlem, East Harlem and the Upper West Side in Manhattan. 
On Labor Day, over two million spectators and thousands of masqueraders would normally be expected to converge on Brooklyn's Eastern Parkway on Labor Day Monday. But clearly, since these are not normal times, the West Indian American Day Carnival Association (WIADCA), organizer of the massive annual carnival parade, took no chance
The Brooklyn-based group cancelled the massive, spectacular event for the second successive year, because of the COVID-19 pandemic.
However, it still allowed carnival aficionados to enjoy Caribbean culture by hosting a series of carnival events, including a march on Eastern Parkway.
In late September, Haitian community leaders in Brooklyn strongly condemned the mass deportation of Haitian migrants from the Texas border.
The leaders — including legislators Assembly member Rodneyse Bichotte Hermelyn, chair of the Brooklyn Democratic Party, and Council Members Dr. Matthieu Eugene and Farah N. Louis — rallied outside Brooklyn Borough Hall denouncing the deportations.
The Biden administration had begun deporting thousands of Haitians who have migrated at the southern border after illegally entering the US, overwhelming the South Texas town of Del Rio.
With the week-long 76th Session of the United Nations General Assembly Debate taking place during the last week in September, Caribbean Community (CARICOM) Heads of Government and Foreign Affairs Ministers ensured their voices were well heard, as they lamented the dire, adverse effects of the COVID-19 pandemic on their respective economies. 
They, unequivocally, capitalized on this year's General Assembly theme, "Building resilience through hope — to recover from COVID-19, rebuild sustainably, respond to the needs of the planet, respect the rights of people, and revitalize the United Nations." 
In early October, immigrant New Yorkers increased pressure on Senate Majority Leader Chuck Schumer to deliver on citizenship in the federal budget reconciliation package. 
In front of Senator Schumer's Manhattan office, immigrant advocates and community members urged the Majority Leader to ignore the faulty assessment offered by the parliamentarian and fulfil the promise that Democrats made to immigrant communities, according to NYIC.
In mid-October, the Biden administration moved to end mass worksite raids conducted by the Immigration and Customs Enforcement (ICE) agency that had resulted in the arrests of hundreds of undocumented Caribbean and other immigrants.
In a memorandum, Mayorkas directed ICE, US Customs and Border Protection (CBP), and US Citizenship and Immigration Services (USCIS) to "take actions to promote a fair labor market by supporting more effective enforcement of wage protections, workplace safety, labor rights, and other employment laws and standards." 
The policy change remakes how ICE had been operating during the previous administration of President Trump. 
During Trump's four-year administration, ICE raided several work places arresting and, subsequently, deporting hundreds of undocumented Caribbean and other immigrants. 
A number of Caribbean candidates who were victorious in June's Democratic Primary romped to victory in early November in the general elections in the heavily-Democratic New York City. 
Williams was re-elected, as well as Louis, and Hudson, Joseph and Narcisse were elected to New York City Council for the very first time. 
In mid-November, Williams officially announced his candidacy for Governor of New York State.
Williams' announcement came after a seven-week exploratory phase, during which he visited and spoke with communities from Long Island and Brooklyn to Rochester and Buffalo, among other places. 
In early December, Williams hailed the City Council's passage of Intro 1867, expanding the right to vote in municipal elections to roughly 900,000 non-citizen New Yorkers, including Caribbean nationals, with legal permanent residence status or other valid work authorization. 
A week later, Williams disclosed that he has tested positive for the COVID-19 virus.  
Then, at the end of December, a week after Mayor-elect Adams announced that the historic Kings Theatre in the Flatbush section of Brooklyn in the heart of the Caribbean community will be the site of his inauguration ceremony on Jan. 1, Adams said that the much-anticipated ceremony will be postponed for a later date. 
Adams, the incumbent Brooklyn Borough President, said the ceremony will be held in conjunction with those for Comptroller-elect Brad Lander and Public Advocate Williams, the son of Grenadian immigrants. 
"Dear fellow New Yorkers, it is clear that our city is facing a formidable opponent in the Omicron variant of COVID-19, and that the spike in cases presents a serious risk to public health," said Adams in a joint statement with Lander and Williams. 
"After consulting with public health experts, we have decided that our joint inauguration ceremony will be postponed to a later date in order to prioritize the health of all who were planning to attend, cover and work on this major event," the statement added.