News
WIADCA dismisses charges by outgoing prez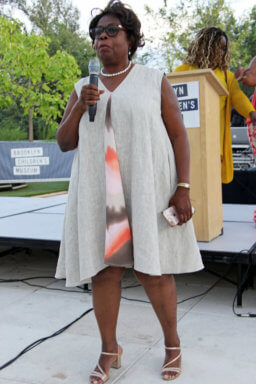 The Brooklyn-based West Indian American Day Carnival Association (WIADCA), organizer of the annual, massive West Indian American Day Carnival Parade on Brooklyn's Eastern Parkawy, on Monday dismissed serious charges by outgoing president Jean Joseph, saying that she occupied "no special powers" beyond her title.
"The organization's president is chosen from the Board by the board of directors and occupies no special powers beyond that designation," said WIADCA spokesman Dr. Hank Sheinkopf in response to questions posed by Caribbean Life over Joseph's resignation in which she claimed, among other allegations, in her resignation letter, circulated widely to the media and in some quarters, that, since becoming president in April 2018, she was "assailed and treated with the utmost disrespect by our Board of Directors."
"The Board acted entirely within its authority, as clearly stated in the organization by-laws, and acted entirely with approval of our legal counsel," Dr. Sheinkopf added.
In her resignation letter, dated Sept. 25, but made available to Caribbean Life on Oct. 8, the Dominican-born Joseph, a certified public accountant (CPA), claimed that she was "unable to act in my capacity as president, regardless of whatever efforts I have made.
"The internal disputes would result in ridiculous arguments as to the powers of the president," she charged, claiming, for example, that the board removed four members "without following any protocol or process.
"They gave these members no say or opportunity to defend themselves," alleged Joseph without identifying the four members. "This outrageous act has been vigorously opposed by me to no avail."
But Dr. Sheinkopf retorted that the charges raised by those former board members were "inaccurate."
"It was an honest discussion attended by counsel," he said, adding that "it would be inappropriate to disclose the content of the meetings held while those individuals were in attendance."
He also did not identify the four members.
The former president also charged that the board "has made every effort to strip away my powers," and that her only role was to "attend meetings and be abused by board members.
"This has included my being forbidden to talk with elected officials, or to sign contracts," Joseph claimed. "I can't act in any capacity as the head of the organization.
"I can't talk to our bank and have no access to our financial records," she added. "I have been locked out of the office and have no access to the mail. I have also been excluded from the e-mails relating to board business. My inability to talk to the public, our sponsors and our elected officials has resulted in much confusion with these groups.
"I can live with the insults and can accept that we can have disagreements, but I cannot accept the disrespect and disparaging remarks, which are made about me personally and my professional career," continued Joseph in her allegations. "This has been at the very least unsettling and at worst libelous."
But, even with the charges levelled against the WIADCA Board, Joseph said she will "continue as a Board member of this wonderful organization and offer my services to all who ask for them.
"It is my hope that this resignation will best serve WIADCA," she wrote. "I know that we all must come together to make our organization succeed.
"If my withdrawing as president will help to do so, then let it be God's will," she added. "I leave proud of my accomplishments and proud to have served as your president."
But Dr. Sheinkopf said Joseph's resignation letter "specified her self-removal from all organization positions."
He said WIADCA was "moving forward, servicing our community with impactful programming.
"In the COVID crisis, we are providing food, protective gear, school and baby supplies," he said. "We have been in business for 53 years. All organizations go through changes. We grow and adjust. Change is never easy. We wish all well."
In an earlier press statement, on Oct. 8, Dr. Sheinkopf said WIADCA Board of Directors "accepts the resignation of our president.
"As we navigate through this change on our board, we move forward with our commitment to year-round educational programming and initiatives.
"Nothing will deter us from our mission," he affirmed. "The president served as a member of the board. We are thankful for her service and wish her well."
Dr. Sheinkopf said WIADCA will soon announce the appointment of a new president, along with organizational updates.
"We look forward to next year's annual event and pray daily for the end to the COVID-19 pandemic plaguing our communities," he said.
The post WIADCA dismisses charges by outgoing prez appeared first on Caribbean Life News.