News
White history professor resigns after admitting falsely to claiming Black Caribbean identity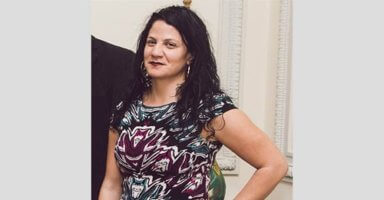 An American white history professor, who admitted last Thursday to falsely claiming a Black Caribbean identity, has resigned, according to the university where she taught.
"Dr. Krug has resigned her position, effective immediately," said George Washington University in Washington, D.C., in a statement on Wednesday, referring to Dr. Jessica A. Krug, an associate professor in history at the university.
"Her classes for this semester will be taught by other faculty members, and students in those courses will receive additional information this week," it added. "We hope that with this update our community can begin to heal and move forward."
On Friday, George Washington University said it had moved to suspend Prof. Krug.
"While the university reviews this situation, Dr. Krug will not be teaching her classes this semester," said the university at the time. "We are working on developing a number of options for students in those classes, which will be communicated to affected students as soon as possible."
Deeply concerned about the impact on the university, the history department at George Washington University had sought Dr. Krug's resignation after she admitted to the false claim.
"The members of the faculty of The George Washington University Department of History are shocked and appalled by Dr. Jessica Krug's admission on Sept. 3, 2020 that she has lied about her identity for her entire career," said the statement in part.
Dr. Krug, wrote in a blog last Thursday, in the Medium, that she is actually white and Jewish, and that she has "built her life on a violent anti-Black lie."
She wrote that, throughout her adult life, she claimed to have North African, African American and Caribbean heritage.
Writing under the caption, "The Truth, and the Anti-Black Violence of My Lies," Dr. Krug said that, "for the better part of my adult life, every move I've made, every relationship I've formed, has been rooted in the napalm toxic soil of lies. Not just any lies.
"To an escalating degree over my adult life, I have eschewed my lived experience as a white Jewish child in suburban Kansas City under various assumed identities within a Blackness that I had no right to claim: first North African Blackness, then US rooted Blackness, then Caribbean rooted Bronx Blackness," she wrote.
"People have fought together with me and have fought for me, and my continued appropriation of a Black Caribbean identity is not only, in the starkest terms, wrong — unethical, immoral, anti-Black, colonial — but it means that every step I've taken has gaslighted those whom I love," Dr. Krug continued. "Intention never matters more than impact."
The professor said that to say that she, clearly, has been battling "some unaddressed mental health demons" for her entire life, as both an adult and child, is "obvious."
She said mental health issues likely explain why she assumed "a false identity initially, as a youth," and why she "continued and developed it for so long."
Dr. Krug said the mental health professionals from whom she claimed she has been "so belatedly seeking help" assured her that "this is a common response to some of the severe trauma that marked my early childhood and teen years."
But, she said, "mental health issues can never, will never, neither explain nor justify, neither condone nor excuse, that, in spite of knowing and regularly critiquing any and every non-Black person who appropriates from Black people, my false identity was crafted entirely from the fabric of Black lives."
Stating that she is "not a culture vulture" but "a culture leech," Dr. Krug said she had thought about ending "these lies many times over many years," but added that her "cowardice was always more powerful than my ethics.
"I know right from wrong. I know history. I know power. I am a coward," she wrote. "I am a coward. There is no ignorance, no innocence, nothing to claim, nothing to defend. I have moved wrong in every way for years."
Dr. Krug said she believes in "restorative justice, where possible, even when and where I don't know what that means or how it could work.
"I believe in accountability. And I believe in cancel culture as a necessary and righteous tool for those with less structural power to wield against those with more power," she said. "I should absolutely be cancelled. No. I don't write in passive voice, ever, because I believe we must name power. So. You should absolutely cancel me, and I absolutely cancel myself."
The post White history professor resigns after admitting falsely to claiming Black Caribbean identity appeared first on Caribbean Life News.