Sports
Wes Hall getting statue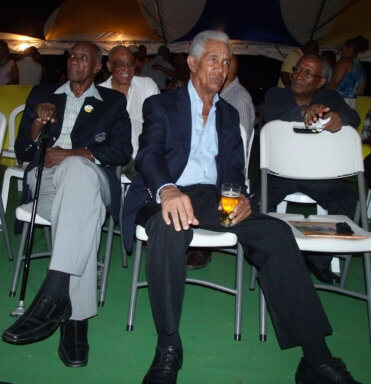 Visitors to Barbados' Kensington Oval cricket ground will soon be greeted by a statue of another of the island's and West Indies' cricketing legends standing along with that of Sir Garfield Sobers, the image of Sir Wesley Hall.
The Barbados Nation newspaper has reported that Prime Minister Mia Mottley will on Nov. 29 unveil, next to that of Sobers, an eight-foot statue of the former tear-away fast bowler who put terror in the hearts of batsmen across the world from 1958 to 1969 in 48 Test matches.
"The statue will be erected on a slightly lower platform next to Sir Garry, who is a National Hero, and Sir Wes will be next to him on the side by the Hall And Griffith Stand, which of course he is associated with," said Chris deCaires, a member of the planning committee for the project. It is privately funded to the cost $250,000.
Hall, who celebrated his 83rd birthday earlier this month, last opened bowling with Sobers for the West Indies at Kensington in 1968 when the home team drew with England.
Throughout his career he took 192 Test wickets at an average of 26.38 and was the first West Indian bowler to take a hat-trick in Test cricket. He also captured 546 wickets in 170 first-class matches.
Hall began his Test career against India in 1958, took his hat-trick a year later against Pakistan and bowled the final over in two tied Tests, against Australia in 1960 and against England in 1963.
Hall is also a member of the International Cricket Council Cricket Hall of Fame and the West Indies Cricket Hall of Fame.
Some while after the end of his career he entered politics, serving in the Barbados Senate and House of Assembly. He was appointed minister of tourism in 1987.
The powerfully built former fast bowler became a West Indies selector then went on to be board president from 2001 to 2003.
He was awarded Knight Bachelor in 2012 for services to sport and the community.
The post Wes Hall getting statue appeared first on Caribbean Life News.