News
Virtual Caribbean Carnival extravaganza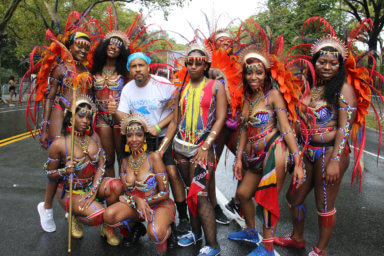 In lieu of the spectacular display of carnival costumes and revelry this Labor Day Monday in what would have been the 53rd staging of the spectacular West Indian American Day Carnival parade, amid the coronavirus (COVID-19) pandemic, organizers are still promising a virtual Caribbean Carnival extravaganza.
"We will not give in to COVID-19," vowed Trinidadian Angela Sealy, Board chair and long-serving member of the Brooklyn-based West Indian American Day Carnival Association (WIADCA), which usually hosts five days of carnival events, culminating with the massive parade on Labor Day on Brooklyn's Eastern Parkway.
"We will celebrate our collective heritage, our joy and creative expressions in every way we can, safely," Sealy added.
Cecille Ford, another WIADCA board member and Mas Committee chair, said: "COVID-19 might have slowed us down, but it's not going to stop our show.
"We're here today to tell everyone how this energy brought us to a new era of presentation," he added.
Last Friday, WIADCA presented a virtual Youth Fest talent show, highlighting young emerging artists.
This Friday, the carnival group will host Brass Fest, a virtual "at home' jam featuring popular musical ambassadors Kes the BAND; Tabou Combo, celebrating their 52nd year anniversary as Haiti's premiere Kompa band; Nailah Blackman, on stage with Kes for the very first time; and Trinidad and Tobago's Road March champ Iwer George, among others.
On Monday, Sept. 7, WIADCA opens with "One Love" New York Carnival and a Virtual Road show, a 12-hour edition complete with live DJ music, allowing masqueraders to participate safely from home on Zoom: https://www.ticketgateway.com/nycarnivalvirtualroad.
All festivities end in a grand finale on Sat., Sept. 26 with "Panology: Origins," a virtual steel band showcase featuring soloists from around the globe, and an educational journey.
In celebration of WIADCA's 2020 theme, "Back to Love," this year's virtual and community marshals include members of the New York Police Department (NYPD), "essentials" from surrounding hospitals, city agencies and young professionals; WIADCA volunteers; and "other notables."
New York Carnival 2020 partners are Lyft, Trinidad & Tobago Tourism Co., Interfaith Hospital, Emblem Health, TWU Local 100, Healthfirst, Con Edison, Carpenter's Union, UFT, Flatbush BID, Sterling Bank, Caribbean Life, BRIC, NYPD, Team Soca, New York State Council on the Arts and the Brooklyn Museum.
Calvin Collins – also known as International DJ Spice, a WIADCA Board Member and Entertainment Committee co-chair – said: "We can't wait to get back in the streets carnival-style to feel the love again."
"This year's virtual events are an exciting new way to celebrate and promote the vibrancy of Caribbean culture to New York City and beyond, and we are thrilled to be a part of them," said Victoria Schneps, president and publisher, Schneps Media, and owner of Caribbean Life.
The post Virtual Caribbean Carnival extravaganza appeared first on Caribbean Life News.