World
Viral hashtag demands #Sandalsboycott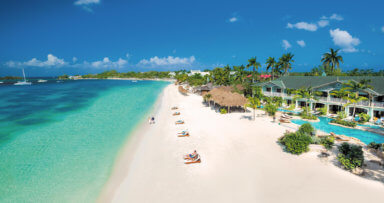 One of the Caribbean's trendiest holiday resorts is trending number one on social media platforms and this time its founder Gordon "Butch" Stewart is not celebrating the viral spread to guests and potential clients.
The reason is that the Sandals Resort, launched in 1981 by the Jamaican millionaire is now the bane of criticism for propping up the politics of Fox TV hosts Tucker Carlson and Sean Hannity.
Boasting 24 resorts in a chain of hotels — some branded by the name Beaches — the properties located in The Bahamas, Grenada, Turks & Caicos Islands, Barbados, Antigua and Barbuda, St. Lucia and Jamaica — among others — distinguish themselves for being the premiere Caribbean, luxury, all-inclusive holiday getaway for couples and families.
Stewart first opened a Sandals Hotel in Montego Bay, the nation's second city and first hub for vacationing tourists.
Success from US travelers enabled a second resort in the same city, then others in Ocho Rios, Negril and the western region of the island commanding a whopping 85 percent occupancy rate and almost 50 percent returning vacationers.
Here, television viewers were introduced to the island paradise from massive promotional campaigns often aimed at talk shows.
Fox-TV benefited with advertising sponsoring the opinions of President Donald Trump supporters, Carlson and Hannity.
It is primarily this pair of conservative-leaning Republican advocates that a boycott threatens the future of the popular resort.
Reportedly their caustic commentary about the Black Lives Matter Movement and a recent negative critique of the Joe Biden/Kamala Harris union might have ignited this new call to action against the Stewart organization.
This is not a new phenomenon, previously an attempt was made to mount a protest against Stewart and his son Adam, who serves as deputy chairman to the Sandals Resorts International. Allegedly, the company was cited for discriminating against disabled potential patrons by not making provisions for them to maneuver properties.
Reportedly an adjustment was made in 2004 to end the alleged discriminatory policy.
During that period social media had not emerged the explosive influence it now maintains. Another controversial policy surrounded Stewart's anti-gay practice of disallowing same-sex couples to his properties.
Stewart was heavily rebuked by celebrities for rejecting homosexual couples to vacation at his properties.
Advocates for gay liberation waged fierce condemnation with boycotts and imposed charges of discrimination.
Perhaps those actions spawned Beaches, another chain under the Sandals umbrella which allows families and guests of both genders.
Now with viral responses to controversial issues and a 'cancel culture' which can effectively impact the success or failure of businesses or individuals considered politically incorrect, Stewart and his attention to social platforms could meet a contentious sector unwilling to buy into the successful propaganda promoted by the tourist friendly resort.
Reportedly, Adam used the Twitter platform to show solidarity with President Trump.
Allegedly he tweeted that the COVID-19 was a "hoax" and later that he supported police actions against protesters of the George Floyd travesty.
Some maintain that Adam often 'likes' opinions tweeted by the president and with endorsements of the president's verbiage has been perceived a racist.
This latest boycott gained traction when former guests of the chain of hotels posted disdain for the alliance between FOX-TV, the president and dissenters of the BLM.
An alleged former guest described the SR as a "slave retreat" and "plantation."
Comments from alleged former guests ranged from threats to never returning to the resort to expressions of anger that a national of a predominantly Black country would side with any individual who disavows systemic racism in America.
By advertising on Tucker Carlson Tonight and Hannity's show, #BoycottSandals and #ByeHannity is trending the number one tweeted hashtags.
Neither of the father nor son executives have responded to the viral assault.
The post Viral hashtag demands #Sandalsboycott appeared first on Caribbean Life News.