World
Vincentians in NY begin celebrating independence anniversary virtually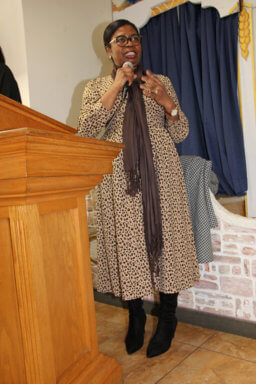 In view of the coronavirus (COVID-19) pandemic, Vincentians in New York will this week begin celebrating their 41st independence anniversary celebrations virtually with a series of events.
The events will be spearheaded by the Brooklyn-based Council of St. Vincent and the Grenadines Organizations, U.S.A., Inc. (COSAGO), the umbrella Vincentian group in the United States.
COSAGO president, Laverne McDowald-Thompson, said the major celebratory events comprise a virtual Service of Thanksgiving on Sunday, the first of two financial forums on Friday, and the second on Nov. 6.
"This year, due to the situation as it relates to the coronavirus pandemic, we have not been able to host any of our major annual events, including our 1000 Islands Get Away to Canada in July, our Independence Church Service and our Independence Luncheon Gala," McDowald-Thompson told Caribbean Life Monday night.
"The executive of the organization has been meeting regularly via zoom, keeping abreast of the activities of members' organization, which have been doing a phenomenal job since the onset of the pandemic," she added.
For example, McDowald-Thompson said a number of members originations donated food and beverages to front line works in New York City, and Brooklyn in particular, in the earlier stages of the pandemic, "when the healthcare industry was stretched to its limits."
Unable to meet in person with COSAGO members and supporters, she said the umbrella group, therefore, "found it fitting to organize the upcoming events in an effort to keep our community engaged during these challenging times."
The independence anniversary Service of Thanksgiving will be held virtually from 3:00 pm with The Very Rev. Otis Samuel Nichols, dean and rector of the St. George's Anglican Cathedral, Kingstown, St. Vincent and the Grenadines, delivering the sermon.
McDowald-Thompson said The Cathedral Choir will join in the celebration from the homeland, performing live.
Special renditions will also be offered by the youthful, renowned, Canada-based Vincentian trio, the Melisizwe Brothers.
The Service of Thanksgiving will be streamed live on Facebook at https://www.facebook.com/groups/COSAGO/ and https://www.facebook.com/Vincy-Foreign-Based-198499160187176.
It will also be viewed on YouTube via Garnes Byron Channel, https://www.youtube.com/watch?v=XmeNabJLtxI.
"Our independence celebrations are taking place during challenging times due to the pandemic – a time when Vincentians at home and in the Diaspora, like the rest of the world, are experiencing the financial crunch," said COSAGO vice president Arden C. Tannis, a former inspector in the Royal St. Vincent and the Grenadines Police Force and erstwhile president of the Brooklyn-based group, St. Vincent and the Grenadines Ex-Police Association of New York, Inc.
"With money being the life blood of our people and essential to our existence, we at COSAGO found it necessary and fitting to keep our people informed, and help guide them financially, as we all try to make the best with what we earn," he added.
In this nexus, Tannis said COSAGO will host the two virtual forums on finance.
The first, this Friday, at 8:00 pm, is themed, "How to Achieve Financial Wellness 2021 and Beyond". It will be presented by Stacia Morris, a Connecticut-based Vincentian Certified Financial Advisor and author of the book, Teen Money 101.
This event will be streamed live on Facebook via Arden Cameron Tannis at https://www.facebook.com/ardencameron.tannis and on YouTube via Advocate For Financial Wellness at: https://youtube.com/channel/UCpDJNhQTP_1TJqySnUK6qXA.
The second presentation, on Friday, Nov. 6, titled "Managing Your Finances in Uncertain Times", will be presented by Anthea Perkinson, a certified financial planner.
It will be streamed on: Facebook@Advocate For Financial Wellness and YouTube@Advocate For Financial Wellness.
"All Vincentians at home and in the Diaspora are invited to join us in these events, as we celebrate our 41st independence anniversary," Tannis said.
The post Vincentians in NY begin celebrating independence anniversary virtually appeared first on Caribbean Life News.