World
Vincentian envoy says COVID gives nationals 'pause'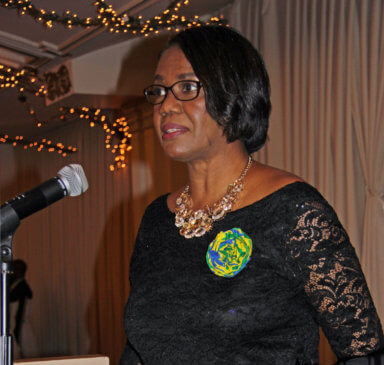 As St. Vincent and the Grenadines celebrates its 41st anniversary of political independence from Great Britain, Ambassador to the United States and the Organization of American States (OAS), Lou-Ann Gilchrist, says the coronavirus (COVID-19) has given nationals "pause."
"We give thanks to the Almighty for His mercy and love, which are new every day and which have brought us all to this day of celebration," said Gilchrist in her virtual address on Sunday at an Ecumenical Service of Thanksgiving, organized by the Brooklyn-based Council of St. Vincent and the Grenadines Organizations, U.S.A., Inc. (COSAGO), in conjunction with the New York Consulate General. "It is a day of celebration, which is tinged with the sadness of loss, however.
"As we celebrate this milestone in our country's advancement, we pause to reflect in reverence on the dearly departed who lost their lives, especially those who succumbed to the dreaded COVID-19," she added. "May they rest in peace, and may their families and loved ones be comforted by enduring and fond memories of them.
"My brothers and sisters, the pandemic has given us all pause," the envoy continued. "As we battle daily to ensure that we follow the health and sanitary protocols established to reduce the spread of the coronavirus, we are reminded now, more than ever, that the actions of each individual can have a profound effect on the life, health and survival of others.
"In short, we are reminded of our individual and collective responsibility. We have to be our brother's keeper," Gilchrist urged. "In like manner, friends, we each need to accept and fulfil our responsibility as Vincentians to promote the ideals of community and of nationhood. We must rid ourselves of the myopic views, which cause us to denigrate our blessed homeland, and which separate us – one from the other – and which promote strife. We must work together, for, although we have come of age as a nation, we must not rest on our laurels. We still have a nation to build."
At the same time, the ambassador said Vincentians must wrest the nation from the deadly threat of the COVID-19, "which can reverse the economic gains made in our country over the past two decades under the astute leadership of our government."
Prior to the current pandemic, Gilchrist said the Eastern Caribbean Central Bank predicted a regional contraction of close to seven percent.
But, now, she said, the Central Bank estimates an economic contraction in the Eastern Caribbean Currency Union of between 10 and 20 percent in each country.
"Nevertheless, the Government of St. Vincent and the Grenadines is committed to combatting this pandemic through a continuous, inclusive and people-centric approach, and has extended aspects of the Recovery and Stimulus package, initially valued at EC$74 million to further support our economic recovery," the envoy said.
Through what she described as "the government's prudent management of the coronavirus situation," she said St. Vincent and the Grenadines reported no deaths from COVID-19.
In addition, she said there was no community or cluster spread, adding that the Atlanta, GA-based US Centers for Disease Control and Prevention (CDC) and the United States Department of State recently upgraded the country's travel health notice and travel advisory, respectively, "concomitant with the improvements in the COVID-19 situation."
Gilchrist said the protocols in place for the control and containment of the coronavirus are "protective of Vincentians and require the compliance of all."
But, even in the face of a global economic fall-out from the COVID-19 pandemic, she said St. Vincent and the Grenadines is poised for continued development.
Gilchrist said recent projects and initiatives, such as the PRYME program, have "given much-needed impetus to a wide cross-section of the population to engage in business enterprise and become self-sufficient."
She said the construction of hotels and resorts will boost the tourism sector, and provide employment to hundreds of Vincentians in all related sectors, such as agriculture, and the cultural and performing arts.
Additionally, Gilchrist said the construction of the "world-class athletics track" at Diamond will provide athletes with facilities "to prepare them better to compete in the global arena.
"It is a needed complement to the strengthening of the education revolution – for our students will be able to hone their athletic skills to match their academic prowess," she said.
"As we approach our 42nd year of independence, let us affirm our Vincentian pride, embrace our sovereignty and proclaim our self-determination," the diplomat added. "We are Vincentians, we are the proud children of Joseph Chatoyer (Paramount Carib Chief, and the country's first and only national hero). We belong to the home of the blessed. Let us stand together and build our nation."
In her virtual independence message on Sunday, on Facebook and YouTube, COSAGO president, Laverne McDowald-Thompson, said that a few months ago, her organization felt that the COVID-19 pandemic "had robbed us of the privilege to celebrate our independence.
"But, thank God, we have this opportunity to do so," she said. "This is a testimony that God is bigger that COVID-19. We are here, and God is truly worthy of our praise. My fellow Vincentians let us count our blessings, for, when we do, it reminds us to be grateful."
In invoking the words of the song writer, Johnson Oatman, Jr., McDowald-Thompson, said: "'Count your blessings, name them one by one…, and it will surprise you what the Lord has done.'
"I believe if we do as the song writer encouraged, we would be more grateful; it would make us even more proud of our nation," she added. "Sometimes, it's easy to take a negative view of life, but when we remember the things we have been given, the opportunities we have, the accomplishments of our people, and of our nation, we can say with a heart of thanksgiving, 'thank you Lord for bringing us thus far.'"
The COSAGO president also said that the nation is blessed to have "faithful Vincentians in the Diaspora, who not only look to see what is missing but look with other purpose and use it to guide our decisions, especially when it comes to giving back to St. Vincent and the Grenadines."
McDowald-Thompson thanked the membership of COSAGO, and other Vincentian organizations and individuals, for their dedication to the development of St. Vincent and the Grenadines.
"Let me remind us that our remittance is a central part of St. Vincent and the Grenadines economy," she said. "Let us continue to do our part."
Besides the Virtual Independence Service of Thanksgiving, COSAGO, in collaboration with the New York Consulate General hosted last Friday the first to two financial fora. Vincentian author Stacia "Stacy" Morris, MBA, spoke virtually on "Financial Literacy and Wellness."
On Nov. 6, Anthea Perkinson, a certified financial planner, will also speak virtually, during the other forum, on "Managing Your Finances in Uncertain Times." The forum will be streamed on: Facebook@Advocate for Financial Wellness and YouTube@Advocate for Financial Wellness.
St. Vincent and the Grenadines obtained its independence from Britain on Oct. 27, 1979.
The post Vincentian envoy says COVID gives nationals 'pause' appeared first on Caribbean Life News.