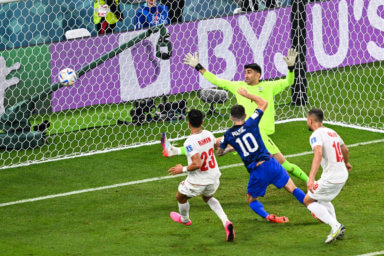 The United States Tuesday night punched its knockout round ticket in the FIFA World Cup Qatar 2022, thanks to Christian Pulisic's winning goal in a 1-0 victory over Iran at Al Thumama Stadium in Doha, Qatar.
With the win, the US finished in second place in Group B with five points and will now take on the Netherlands in the Round of 16 on Saturday, according to CONCACAF.
"A boisterous atmosphere inside the stadium greeted the two teams, making for a very intense start," CONCACAF said. "Soon enough it began to settle, with the US taking control of possession and mustering the first two looks at goal via a Christian Pulisic header and a Timothy Weah shot in the first half-hour."
CONCACAF said the US picked the lock of the Iranian defense in the 38', when Weston McKennie flighted a diagonal ball down the right wing to Sergino Dest, "whose headed cross met the charging Pulisic, and the US attacker steered home from a yard out for a 1-0 US lead.
Christian Pulisic of the United States is helped off the pitch after suffering an injury during the World Cup group B soccer match between Iran and the United States at the Al Thumama Stadium in Doha, Qatar, Tuesday, Nov. 29, 2022.Associated Press/Manu Fernandez
"The US sought to keep the momentum going in the second half to try to add to their lead, but it was Iran who started to carve out chances and had the US defense on their heels," CONCACAF said.
"As time ticked away, every ball was hotly contested by the two teams, knowing that an Iran goal would completely change the dynamic of which team would advance and which one would go home," it added. "In the end, US GK Matt Turner and the defense held firm, and turned away ever Iranian scoring chance to nail down the 1-0 victory and a place in the next round."
CNN said the pressure was "certainly" on for Gregg Berhalter's side in Qatar after the national team's failure to qualify for the 2018 World Cup, but the US got the job done with three gritty group performances.
"It certainly wasn't pretty at times, in particular in the closing stages against Iran, but progressing through the group stage was the minimum expectation for this exciting young team," it said, adding that there will be some concerns going into the knockout stages, though, after Pulisic suffered an abdominal injury while scoring the winner."
The US will be hoping its star man, dubbed "Captain America" by some, is fit for the round of 16 tie against the Netherlands on Saturday following the news that Pulisic had been sent to hospital for a scan, reported CNN.