Music
Tropicalfete's teaching artist a coronavirus song finalist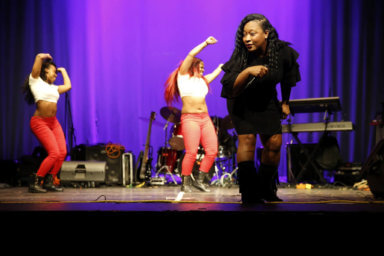 Brooklyn's Tropicalfete's teaching artist Vincentian-born Daria Primus has been selected among six finalists in NYC Beatz Coronavirus Song Contest.
Brooklyn Arts Council's Folk Arts program said in a statement that the public was expected to meet the finalists and cast their votes on social media on Thursday in determining the winner, who will receive $650.
"Our NYC Beatz Coronavirus Song Contest received numerous entries; each song's music and lyrics offers incredible tools for living, raises awareness to stem the spread of coronavirus in New York City, and — most importantly — inspires hope," the statement said.
"After much deliberation, our Folk Arts Society selected six finalists," it added, disclosing that, besides Primus, the other artists selected were Ayusha Sanzhiev, Reem Abdou, Suvdaa Kheried, Tatiana Maslak, Daria Primus and Fernando L. Garcia Rodas.
Brooklyn Arts Council's Folk Arts program said it had asked New York City traditional artists to create original music to inform the public amid the COVID-19 pandemic.
Alton Aimable, the St. Lucian-born president and founder of Tropicalfete, told Caribbean Life on Sunday that Primus's "'Social Distancing' was "done on the traditional calypso beat – the extempo rhythm."
Primus, one of Tropicalfete's teaching artists, responsible for Tropicalfete's Voices, also told Caribbean Life that she expresses herself best through music.
"So, when presented with the opportunity to spread awareness about the coronavirus, I had to take it," said Primus, who is also part of Tropicalfete's costume-designing team. "I want to be a part of getting the word out there that we need to be mindful and stay safe.
"I'm truly grateful to be chosen as a finalist," added Primus, who works at SUNY Downstate Medical Center and University Hospital of Brooklyn. "It tells me that people can relate to the song for which I am thankful.
"I am confident that I have an engaging song," Primus continued. "Therefore, I would definitely love to win, and I believe I have a really good chance.
"Equally, there are other amazing artists in the competition as well and, at this point, anyone can win," she said. "I am just truly grateful to have made it this far in the competition and thankful to be able to spread the word."
They lyrics to "Social Distancing" go partially: "This coronavirus is a serious thing/left, right and center it just hitting/I never see a pandemic so/not even yuh (your) money could help yuh/yet we getting on schupidee (silly)/like we cyar (can't) stay off ah (of) the streets/wash yuh (your) hands properly/and help stop the spread of Covid19."
In her biography, Primus says she "gathers crowds with her fresh vocal style and contagious smile.
"Rather than waiting to be discovered, Daria finds her audience in local and regional venues," it says. "She also fills her time outside of performing with writing and recording."
In addition to solo performances, Primus said she has performed with bands, doing a variety of genres as a vocalist.
She said her powerful rendition of "Try Sleeping with a Broken Heart" has been heard "all around the world."
Primus is also renowned to "rip the stage" with her back-up dancers.
She entertains fans and captivates her audience with her unique and versatile style.
Primus fuses the genres of soca, reggae, zouk and Hip Hop.
She said she has worked with Vincentian soca sensations, such as Lyrikal, Skinny Fabulous and Problem Child, and hopes to make "an indelible mark on the music industry."
Taking the stage at the popular 40/40 Club in New York City, Primus said she was the first to bring soca to the club.
Primus said she has sang background vocals for, among others, Shurwayne Winchester ("Open the Gate"); Skinny Fabulous ("All of Yuh Body"); Bomani ("Till Morning Come"); Isasha ("Feel it"); Problem Child ("Life of the Party); and Ras Penco and Dainjamental ("Overcome").
Primus said she and her band will be headlining Tropicalfete's "End of Summer Carnival Jam Virtual Edition" on Sept. 12, with the rest of Tropicalfete's performance team, steel pan players, virtual rhythm section, singers, dancers, stilts, fire-eating, limbo and TF Mas.
For bookings, call (347) 460-8025; or go to https://www.facebook.com/DARIASVG; https://www.facebook.com/DARIAPRIMUSMUSIC?fref=ts;
http://www.youtube.com/user/desa223; and [email protected].
The post Tropicalfete's teaching artist a coronavirus song finalist appeared first on Caribbean Life News.