News
TriniJam restaurant in Canarsie opens to outdoor dining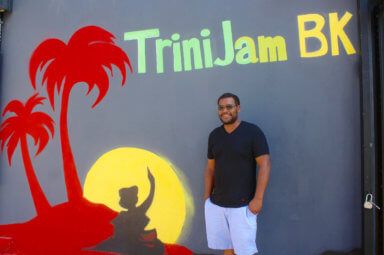 TriniJam BK Roti Bar & Grill brings a breath of fresh Caribbean air to 9501 Flatlands Ave. and 95thStreet in Canarsie, Brooklyn serving fused Jamaican and Trinidadian food, with high quality service.
Like many restaurants across the city, the eatery is forging ahead after a soft opening on Aug. 8, during this unprecedented pandemic, to accommodate customers who must reserve seating in keeping with outdoor dining regulations.
During the first week, foodies enjoyed Mango Chow, Chicken Foot Sauce, Pepper Shrimp Curry Chicken Roti, Steamed Fish and Coo-Coo.
Other mouthwatering dishes will be added to a weekly menu and can be ordered for pickup via telephone, (718-986-0215), email (@trinijambk.com) and via text messenger at 718-986-0215.
Proprietor Calvin Sennon told Caribbean Life, at his beautifully decorated curbside seating, that even though the pandemic posed challenges, it was the support of the community that made the opening possible.
Trinidad-born Sennon and Jamaican-born wife, Latoya, Canarsie residents, who met while attending a Brooklyn high school, worked very hard to realize the American dream. But even though, Calvin the executive chef, in the beginning, did not envision owning a restaurant, the couple wanted in some way to make an impact to enhance their neighborhood, while sharing their Caribbean culture.
He acknowledged that a large black population in Canarsie did not translate to good representation, and caused them to leave the community to find satisfying dining.
As such, after eying the space for 20 years, they decided that it was the right opportunity to share their Caribbean charm, not only by greeting people with good morning, but sharing their fused cuisine.
Calvin, a carpenter, after two years remodeling with bright colored motif and art pieces of Bob Marley and images of strong black female leaders said these features will leave a lasting legacy for his two daughters.
The owners who have traveled extensively and enjoyed good food, promise to add a roof garden to accommodate more customers, and greater entertainment to fit in with the new normal.
"I have a passion for cooking. I want to serve a menu that is fresh, farm to table, well seasoned. I will let the food speak for itself," said the master chef, who will offer wood burning fireside grilling options, with back-home taste.
"We welcome feedback to maintain a high standard of dining in our neighborhood," said Mr. Sennon, who encourages families and professionals in the diverse community, to come out and experience the warm, friendly atmosphere, adding that the meal prices are suited to every pocket.
The post TriniJam restaurant in Canarsie opens to outdoor dining appeared first on Caribbean Life News.