Music
'TOXIC LOVE' PROPOSAL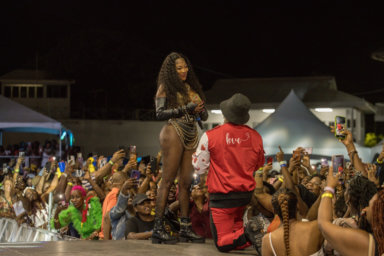 Drue Day was a remarkable moment for Antigua's annual concert. Native Antiguan soca artist, Ricardo Drue recently made a historical moment when he proposed to Trinidadian Soca sweetheart, Patrice Roberts.
According to Aniyah Henry, project manager with the Brooklyn entertainment publicity company PlaybookMG, the performance lineup consisted of many of the couple's friends, such as Preedy, GBM Nutron and Skinny Fabulous.
"The couple rocked to their hit song 'Toxic Love' when Ricardo interrupted the set to speak to the crowd," Henry said.
"I don't have a lot of moments in Antigua, but, tonight, I am going to make a moment," said Ricardo before getting down on one knee and popping the big question.
Overwhelmed with tears of joy, Patrice ran before being escorted back to the stage by Trinidadian artist Preedy.
She said, "Hell, Yes," standing proud with her fiance and their six-year-old daughter, Lily, making her an official Antiguan, according to Ricardo Drue, as he made history.
Speaking out for the first time since the viral moment, Patrice expressed her anticipation for her big day.
"I'm super excited," she said. "Family means a lot to me, and I am very happy right now.
"I want to bask in this moment with my family," she added.