News
'Toots' christened, baptised and converted the reggae genre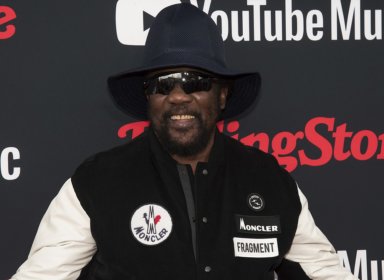 Each Sunday morning, CBS-TV showcases some of the most provocative news stories of the week.
Midway through the 90-minute, weekly round-up of "Sunday Morning," the inevitable in memoriam roll call of deaths of the week informs viewers of some of the prominent names and faces other media might have missed mentioning.
On Sept. 13, a blues song titled "Dreams" ushered audiences to the segment known as "Sunday Passage."
Sung by Frederick "Toots" Hibbert, the music registered with Jamaicans, reggae fans and a global community still grieving the death of the iconic singer who died on Sept. 11.
"Toots," the affectionate Jamaican musician most known by his nickname died in a Kingston hospital after reportedly battling COVID-19.
"Jamaica has lost a great cultural icon," Claude Mills, his publicist said. "The soul of an age has died."
The operative description of the legend is what defined the 77-year-old musician, writer and singer.
"Toots" epitomized soul.
He was soulful.
"He was our Otis Redding, Sam Cooke and James Brown," Jamaican webmaster Leroy "Dreamy" Riley said. "He is/was our godfather of soul."
Often described as a "spiritual revivalist," "Toots" attributed his soulfulness to a family tradition of regular attendance to church outings.
The expressively chatty singer explained that from early in his youth he attended a "clap hand" church.
He said he used his soul to convey the passion he enveloped being the last of 14 siblings born in a parish in rural, May Pen, Clarendon, Jamaica.
The same year Jamaica declared independence from its British mother empire in 1962, "Toots" bonded with two harmony singers to form The Maytals.
Toots & The Maytals forged a union that sustained through almost six decades.
Together they won three consecutive championships of the island's festival contest. After repetitive wins, the indisputable champions gracefully bowed out of the national competition and according to the leader yielded to allow others an opportunity to win.
That kind of benevolence comes from the soul. Perhaps it was what motivated him to coin a word that would later identify the nation's music.
Allegedly at a juncture when ska and rocksteady ruled the dancehalls of the cities according to the legend, while at a recording studio he decided to refashion a derogatory word to name a song and dance. The unflattering gender reference, "streggay," tainted particular outcasts negatively branded for assumed sexual deviances, lifestyles, makeup and fashion choices.
On impulse, inside the studio "Toots" wrote and recorded "Do The Reggay," a song from documentations claim the first mention of the word that became a genre. The birthing of the reggae song also marked a christening with confirmation from Jimmy Cliff and Bob Marley.
This was evidenced when filmmaker Perry Henzell spotlighted the group in his cult favorite "Harder They Come," starring Cliff. Along with Island Records founder Chris Blackwell who is credited as the musical consultant, the pair enabled a performance with Toots & The Maytals that Cliff's Ivan character emulated in his quest to become a reggae star.
The group toured the world, baptizing the music through a plethora of hits; receiving five Grammy nominations by crossing gospel, blues, rhythm and blues and other genres to compose hybrid reggae hits.
Throughout the years, "Toots" recorded an impressive discography earning a reputation that begged international appearances. Here in New York during the 80s and 90s, he made regular SRO appearances at the Manhattan-popular Tramps night club.
One of his most recent, memorable performances booked him for celebration of International Reggae Day on July 1, 2016. From a rooftop setting of a chic New York City hotel, a select VIP crowd marveled his agility, his talent and his soulful renditions.
He played the guitar.
He reprised incidents from his storied career and he sang, soulfully.
"Toots" made global appearances throughout the world particularly in Europe and North America before being diagnosed with the coronavirus. Weeks prior to the pre-independence day celebration, "Toots" re-entered the song contest that lunched his meteoric rise to success.
The popular competition was threatened for the first time in 50 years due to the COVID-19 pandemic. However, with restrictions placed to accommodate voting, the pre-independence song contest prevailed with "Toots" making a re-entry with submission of a track titled "Rise Up Jamaicans."
The song emerged among the top 10 finalists and also won acclaim and success on Billboard Magazine's top 10 reggae chart. In late August, "Toots" released the song on an album titled "Got To Be Tough."
A fan of gospel and country music, "Toots" collaborated with rock stars Keith Richards and Eric Clapton, funk legend Bootsy Collins, hip-hop band The Roots, and country greats Willie Nelson and Bonnie Raitt, to win converts and also imprint signature sounds from varying genres.
On hearing of "Toots'" passing on 9/11, many of those celebrated artists posted condolences on social media to lament the tragedy.
It is "a sad day for Jamaican music," Richards said. "Toots was a giant."
Rolling Stone frontman Mick Jagger told the music magazine named for his rock band that "Toots'" "death is a great loss to the whole music world."
"He was a great singer with a really powerful voice who influenced everyone in the early days of reggae. He was a great stage performer. So full of energy and vitality always giving a top class performance that I was lucky enough to witness," Jagger said.
"The family is asking for privacy at this time as they are going through a very difficult period," Mills explained. "Toots was the patriarch of the family. He was everything to his family."
"Toots" is survived by his wife of 39 years, and seven of his eight children.
Catch You On The Inside!
The post 'Toots' christened, baptised and converted the reggae genre appeared first on Caribbean Life News.