News
'TEQUILA EVER AFTER'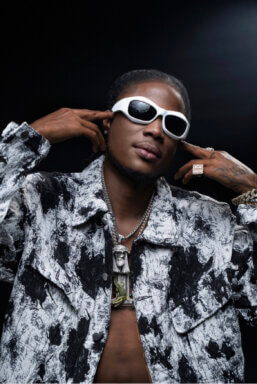 International recording dancehall artist Masicka has announced that he will be joining Afrobeats sensations Adekunle Gold and Nonso Amadi on their highly anticipated "Tequila Ever After" Tour.
The tour is set to kick off on Sept. 22, 2023, at the iconic House of Blues in Dallas, Texas, with Masicka joining Sept. 27 at MGM National Harbor, Washington, DC.
"The 'Tequila Ever After' Tour promises to be a thrilling musical experience as these three talented artists bring their unique sounds and energy to stages across North America," Jamaican entertainment publicist Ronnie Tomlinson told Caribbean Life on Monday.
"Masicka, known for his captivating dancehall style, will undoubtedly add a fresh and vibrant dimension to the tour," added the CEO of the New York-based Destine Media. "With the aim of brining together diverse sounds and cultures, the 'Tequila Ever After' tour promises to be an unprecedented musical experience for fans."
Masicka has gained international recognition for his distinct sound and energetic performances.
With hits like "Top Form," "They Don't Know," and "Tyrant," Tomlinson said Masicka has "solidified his place as one of the top dancehall artists in the industry.
"Joining forces with Adekunle Gold, who's infectious Afrobeats melodies have captivated audiences worldwide, and the talented Nonso Amadi, known for his soulful vocals and heartfelt lyrics, promises an unforgettable experience for fans," she added.
Masicka, a prominent figure in the dancehall scene, expressed his excitement about the tour, stating, "I am thrilled to be joining Adekunle Gold and Nonso Amadi on the "Tequila Ever After" Tour.
"It's a remarkable opportunity to connect with fans from different backgrounds and share my music on an international stage," he said. "I can't wait to bring the dancehall energy and give fans an unforgettable experience."
Fans can join the "Tequila Ever After" Tour at various prestigious venues across the United States and Canada.
The tour dates include: Sept. 27: MGM National Harbor – Washington, D.C.; – Sept. 29: Kings Theatre – Brooklyn; Sept. 30: Orpheum Theatre – Boston, MA; Oct. 1: MTELUS, Montreal, QC; Oct. 3: Rebel, Toronto, ON; Oct. 6: House of Blues Chicago., Chicago, IL; and  Oct. 14: The Wiltern, Los Angeles, CA.
"This extraordinary lineup guarantees an unforgettable performance, showcasing the best of Afrobeat and dancehall music," Tomlinson said. "Fans can expect to be immersed in a night of infectious beats, incredible performances and unparalleled energy."
For more information, click on: https://www.masickaofficial.com/tour/