Music
SUMMERSTAGE ANYWHERE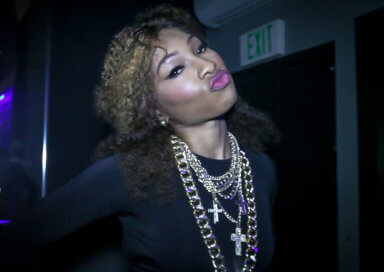 Capital One City Parks Foundation SummerStage continued Tuesday its free digital series SummerStage Anywhere with one-of-a-kind digital arts performances and live stream series with Amazon Music.
Tuesday night's series featured the expansion of SummerStage Anywhere programming into a digital series on Amazon Music's Twitch channel.
It highlighted all-female performances by Trinidadian soca singer-songwriters Nailah Blackman, Nadia Batson and Patrice Roberts.
SummerStage Anywhere said Blackman is "most strongly associated with the soca genre."
It said Blackman's grandfather, the late Garfield Blackman, also known as Lord Shorty or Ras Shorty I, "invented the style of music known as Jamoo and is also credited with inventing soca as a means of reinvigorating calypso music."
Batson was a runner-up in the Power Category at the 2007 International Soca Monarch with her song "My Land" with Kees Dieffenthaller, according to SummerStage Anywhere.
It said Roberts came to national attention in Trinidad and Tobago in 2005 with "the huge hit collaboration," "The Islands," with Bunji Garlin.
"One of her greatest achievements was being named the youngest female Road March winner for her collaboration with Machel Montano, titled 'Band of the Year,'" said SummerStage Anywhere.
On Tuesday, Oct. 13, SummerStage Anywhere, with Amazon Music Series, will feature a special performance by Rodrigoy Gabriela.
SummerStage Anywhere said Rodrigo y Gabriela is a Mexican acoustic guitar duo whose music is influenced by a number of genres, including nuevo flamenco, rock and heavy metal, "with the duo's recordings consist largely of instrumental duets on the flamenco guitar."
They have toured internationally and, in May 2010, performed at The White House for President Barack Obama.
In January 2020, their fifth studio album, "Mettavolution," won a Grammy Award for the "Best Contemporary Instrumental Album" at the 62nd Annual Grammy Awards, SummerStage Anywhere said.
The SummerStage Anywhere live stream series with Amazon Music continues weekly on Tuesdays at 5:00 pm ET on Amazon Music Twitch Channel through Oct. 13.
If you missed a recent performance or conversation, you can keep up to date with SummerStageAnywhere programming on the SummerStage YouTube channel.
The post SUMMERSTAGE ANYWHERE appeared first on Caribbean Life News.