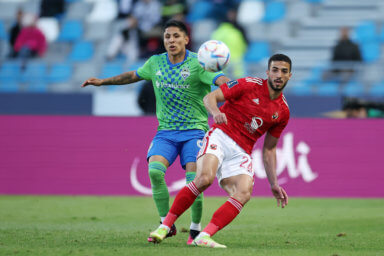 The Seattle Sounders' 2022 FIFA Club World Cup (FCWC) campaign has come to an end following a narrow 1-0 defeat to Al Ahly of Egypt in the Second Round on Saturday at the Iba Batouta Stadium in Tangier, Morocco, according to CONCACAF.
CONCACAF said the 2022 Scotiabank CONCACAF Champions League winners were the first team from Major League Soccer (MLS) and the United States to represent CONCACAF at the FCWC, "but a late goal from the 2022 Confederation of African Football (CAF) Champions League winners proved to be the difference in what was a close, hard-fought encounter."
"The Sounders settled in nicely during the first half and were on the front foot for the large majority of the first 45 minutes," CONCACAF said. "Their first look at goal came in the 14' off a cracking right-footed shot from Nicolas Lodeiro after an Albert Rusnak free kick had bounced off the defensive wall.
"Ten minutes later in the 24' it was Jordan Morris who was presented with a scoring chance when a Lodeiro free kick reached the United States international, only to see the header spin wide," it added.
CONCACAF said the second half saw the Egyptians "assert their control, as they pegged the Seattle defense back in their own half, including on a Mohamed Magdy shot that rolled just wide in the 69'."
CONCACAF said Al Ahly continued to "mount the pressure and ultimately it led to the game's decisive goal in the 88'."
A shot from Magdy rang off the crossbar and the eventual follow-up effort from Magdy saw the ball take a deflection off the leg of Sounders DF Alex Roldan and bounce into the back of the net for a 1-0 Al Ahly lead that held until the final whistle, CONCACAF said.