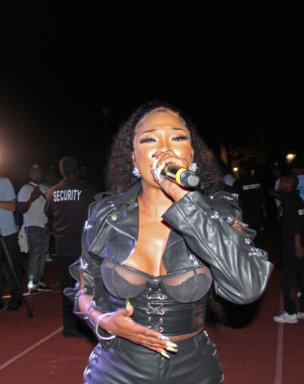 Trinidadian Soca Queen, Patrice Roberts put on a show-stopping performance at the return of the summer Wingate Concert on Tuesday, June 28, the first to be hosted by Brooklyn Borough President Antonio Reynoso, in partnership with Brooklyn for All Inc., a non-profit affiliate, that featured Caribbean artistes, at Wingate Park, on Winthrop Street.
The "Mind My Business" singer, jumped from the stage to the grounds to revel with fans who sang along with chart-topping singles she belted out one after another, bringing the carnival spirit to the electrifying Wingate Park Concert 2022 production.
The exciting musical event, that brought out thousands of concert goers, two and a half years after the Wingate Concert series, like many others, were put on hiatus due to the coronavirus, also featured Grammy Award reggae singer Gyptian.
The Jamaican artiste, famous for Hold You, and Nah Let Go, also put on a fiery performance revving up to the audience who waved their flags with excitement. Gospel singer, Hezekiah Walker, music artist and pastor of Brooklyn Pentecostal mega Church Love Fellowship Tabernacle, along with his choir, in turn, let audience say amen, as they got on their feet, to sing inspiring worship songs, including number one hit, "Every Praise."
BP Reynoso, and Deputy BP Diana Richardson, who were seen shaking their bodies to the music, helped to light-up the concert with a bevy of talented, popular DJs, and emcees, for the free entertaining presentation, that was attended by NY State Senator Zellnor Myrie, Brooklyn Chamber of Commerce President/CEO, Randy Peers, and others.
"As the chief-promoter of Brooklyn, it's an honor to bring back such a summer staple in Brooklyn, a community event I was asked about even before I took office," said BP Reynoso, adding, "while we have daunting tasks ahead of us to strengthen our beautiful borough and make it more livable, equitable, and safer, we can't lose sight of celebrating our culture and history."
"I'm looking forward to partying with my Brooklyn neighbors not just for this year's Wingate Concert, but for many years to come," said the politician, who indeed, joined constituents on the grounds, and danced to the infectious music that filled the air.
BP Reynoso plans to organize various cultural and public events around Brooklyn during his tenure, and aims to promote the cultural diversity of Brooklyn through services and programming that supports Brooklyn's residents, businesses, community-based civil and cultural institutions.
Sponsors included National Grid, Emblem Health, NYC+ Hospitals/Kings County, SUNY Downstate Health Sciences University, The Brooklyn Center, and Brookdale University Hospital and Medical Center.
To learn more, go to www.brooklyn-usa.org.