News
Richie Stephens in the 'Valley'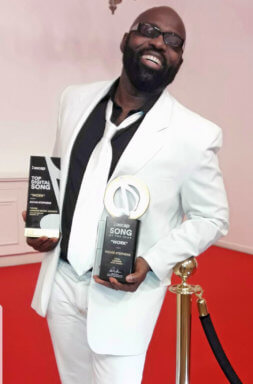 A huge spike in Youtube viewership of Richie Stephens hot new video "Valley," which is approaching 600,000 views, wasn't the only thing that saw a significant increase in activity over the past few weeks.
Stephens saw an increase in streaming and digital sales activity as well. His Instagram account was bombarded with congratulatory messages and an outpouring of love from fans and well-wishers globally.
"Valley, Valley, Valley…what a bad song!" was the exclamation Stephens frequently used when speaking with song producer Richard 'Boomrich' Davidson.
The "Buff Baff" singer said he was in seventh heaven, based on the plethora of positive comments he received after the song was released on digital platforms and radio.
"I have recorded many, many big songs including 'Fight Back' with Garnet Silk, 'Trying To Get To You' and 'She Is A Maniac' with Bounty Killer but there is something extra special about Valley which sets it apart from all others" said Stephens in a recent interview.
"Valley" is already being hailed as a classic by fans. Members of the dancehall, reggae and gospel communities have wholeheartedly embraced the track. I am so touched by the response. I am over the moon!" he told Caribbean Life.
Song producer Boomrich expressed absolute delight to have worked on the hugely successful project.
"'Valley' is such a great song. Being there from the start and hearing the first couple of words from Richie and him telling me that we are onto something great…I am happy to say his words were prophetic. It truly has been an amazing project" he said.
Anthony Turner, a New York-based Jamaican-born entertainment publicist, said a remixed version of "Valley" was recently completed, while a second music video is being edited.
He said Stephens has also been fielding requests for dubplates, jingles and live performances, one of which will take place in Chicago with Stylo G.
The event, billed Dubahdeh"' takes place on Saturday, May 28 at the Stephen Bailey Auditorium (The Chicago Union Hall), 1340 W Washington Boulevard.
In August 2021, Turner said Stephens fulfilled a lifelong dream, to record a full length album with his mother, Mama Carmen, titled "Mother & Son", which was released on Pot of Gold & Dubshot Records.
In late 2021, he released a dancehall tinged, Latin, Afrobeat single titled Crazy.
"The track made an impact on several stations in the Caribbean, in North America and the UK," said Turner, adding that a remixed version of the song was released with dancehall DJ Bounty Killa.