News
Reuben Shaw 'Winning'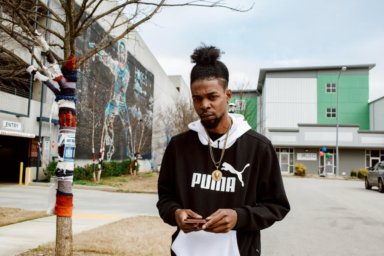 Jamerican talent Reuben Shaw — grandson of legendary reggae artist Denroy Morgan, of "I'll do anything for You" fame, and eldest nephew of Morgan Heritage band members Gramps, Peetah, Una, Mojo and Lukes Morgan — has released a new reggae/dancehall record, "Winning."
Shaw, an accomplished actor — having appeared in the movie "Barbershop 3: The Next Cut," starring Ice Cube, Nicki Minaj, Eve, Common, Cedric the Entertainer, among others — recently turned his attention to DJ/singing.
"Winning" was released last month on VPal Records on all digital platforms.
Previously, Shaw released the R&B-flavored "Bandz" and his first single, "Alien."
"We are all winning," Shaw told Caribbean Life, when asked about "Winning". "Jamaica is winning; don't make them tell you anything else.
"I was hooked up with the beat by my boy, producer/DJ Big Dee, and his label "Next 2 Blow Records" in Atlanta, GA in late 2019," he said. "We connected by promoting some comedy shows working for Atlanta Comedy Theatre. And once he gave me the track, I took it to my home studio and just went off."
Shaw said the tune was released on Feb. 12, and is being distributed by VP Records' subsidiary label, VPAL.
"It is available on all streaming platforms, and I hope to shoot a video in Jamaica as soon as we get some real COVID relief around the world," he said. "I was inspired in the midst of listening to the beat. I rolled up a spliff and studied the rhythm for almost an hour, and the hook just started coming out.
"It felt so good singing it over and over again – just chanting 'Winning'", Shaw added. "The hook became the hook."
He said when he wrote the first verse, it was all freestyle.
"So, the almighty put the words in mouth; and, when I listened back to it, everything made sense," he said. "I knew I had to get a little personal and write (wrote) the second verse because the song got so real to me.
"I just want to win," Shaw continued. "I want to be great; and, as the song manifested itself, I knew it could only be called 'Winning'. I actually hope it could be a theme song for Jamaica track team for the Olympics. We need that gold."
Shaw has appeared in the major TV show, "ATL Homicide", which airs on TV ONE in the US and in the major motion picture "Dirty Grandpa", with celebrated actor Robert De Niro.
As an accomplished songwriter/ producer, Shaw's passion for culture and the arts led him to internships under Hip Hop legends Daddy-O and Grammy Award-winning producer Stevie J ("Love & Hip Hop Atlanta/Life after Death" by Notorious BIG).
He previously collaborated and released music with his uncle Noshayah Morgan, including two singles for the soundtrack of the VH1 TV project "Single Ladies", starring Charity Shea, Queen Latifah, La La Anthony, LisaRaye McCoy, Stacey Dash and Travis Winfrey. 
On his journey from being an actor to a musician, Shaw said: "I think it's been a life more than a journey, and the journey has just manifested into life when I really think about it.
"I was born a musician who became an actor, who continues to do music, because the passion wouldn't pass," he said. "Music is a feeling that's been in me my entire life, and I'm able to express it through songs; where acting to me is the escape of the music that's been buried in my soul.
"I've seen all the ups and downs chasing my musical aspirations, and that's what led me to acting," Shaw added. "So, if it is a journey in my eyes, the journey is one in the same – challenging yet fulfilling. And yet, I still want to experience more."
Shaw is a graduate of The University of Central Florida (UCF) class of 2009, with a major in interpersonal/organizational communications.
He said he "landed" there after completing his first two years of college at the prestigious Black college, Tuskegee University.
Shaw said he was groomed in Jamaica by music icon and family friend, the late Bunny Wailer, an original member of the defunct, popular reggae group, The Wailers, which also featured Bob Marley and Peter Tosh.