Sports
Retired Umpire Bucknor says technology good for cricket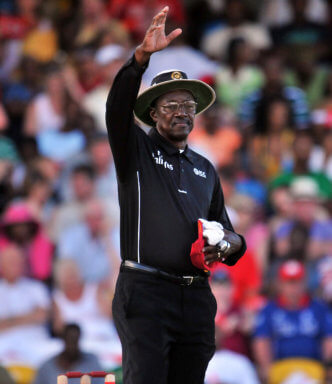 Outstanding former Test Umpire, Steve Bucknor has endorsed the International Cricket Council's (ICCs) use of technology in officiating, and has urged a rethink for those still in doubt.
"I am not certain if it is affecting the confidence of umpires but I know it has improved umpiring," said the Jamaican, who stood in 128 Tests and 181 One-Day Internationals before retiring 11 years ago.
"It has improved umpiring because there was a time when we were saying that the batsman was so-called playing down the line and therefore he's not going to be given out leg before, and technology is saying that the ball is hitting and if the ball is hitting then you have to be given out," he added.
"So we learn from technology and the umpires who do not enjoy having technology around I would hope they would rethink because technology is good for the game," he said.
The umpire Decision Review system was introduced on a trial basis 11 years ago but only after Bucknor's retirement.
Under the current regulations, batting and fielding teams are allowed to review dubious umpiring decisions at least twice per innings.
Bucknor said the level of the current technology allowed officials the luxury of correcting mistakes.
The post Retired Umpire Bucknor says technology good for cricket appeared first on Caribbean Life News.