News
Retired registered nurse Lorna David celebrates 73rd birthday bash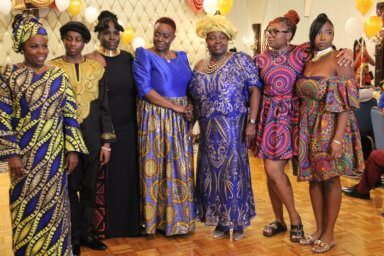 Stating the all-too-familiar caution that "tomorrow, or the next minute, is not promised to anyone", the three children of retired, Vincentian-born, registered nurse Lorna David collaborated in celebrating their mother's 73rd birthday in grand style, on the night of Dec. 16, at the elegant Glen Terrace on Avenue M in Brooklyn. 
The Davids – Nelica, 55, Kimberly, 47, and Kiswana, 33 – said they were very eager to host their mother's 73rd birthday gala rather than wait for another possible milestone. They had asked guests to wear African attire – the vast majority of whom obliged. 
"It's a pleasure to be able to give my mother what she deserves," Nelica, the eldest daughter, told the ceremony, comprising many of Lorna's former nursing colleagues, friends and community supporters, as well as Lorna's three grandchildren – Kiana, 25, Kiara, 19, and Khamani, 14.  
"Seventy-five is not promised to anyone," added Nelica, who, in May 2017, had also celebrated her 50th birthday elegantly at Woodland Manor, on Jamaica Avenue, in Queens. "We're going to celebrate her birthday each and every year."
Kiswana, the youngest daughter, who has followed her mother's footsteps in becoming a registered nurse, told Caribbean Life afterwards that it was "a celebration to remember."
Lorna David makes grand entrance.
"No year is promised to anyone," she stressed. "Seventy-five isn't promised; so, why not celebrate her 73rd while she's still here with us?
"We did it because we wanted to make sure that every birthday that passes is a special moment to remember," Kiswana added. 
Kimberly, an inspector with New York City's Department of Transportation, said she was delighted to co-host her mother's big birthday bash.
"I felt great because she's still here with us, and she's an amazing mom for all the struggles she went through raising three kids and her grandkids," she told Caribbean Life. 
"She did a tremendous job, and it was an overdue celebration for being such a terrific mom," Kimberly added. "And I love her dearly, very much."
Nelica, a Marriott Hotel employee, who serves as Shop Steward, also said that it was her dream that, one day, "we'll be able to give her the party she deserves.
"As a single parent, she went above and beyond to give her children the best she could afford," she said. "Not only did she take care of her children, but she also took care of her mom."
(Lorna's mother, Elista David, of Belmont, bordering the Marriaqua Valley in St. Vincent and the Grenadines, died eight years ago at 88). 
"She also helped me to raise my two daughters," Nelica added. "If I can give her the moon, I will."
Erlene Williams-King, a Vincentian community worker, who served as Mistress of Ceremonies, told the ceremony that Lorna is not only her relative but also a "great friend".
"Lorna has been loyal," she said. "We share the same hobby (going to the casino). Lorna is the real thing, the real stuff."
Lorna David, left, dances with second daughter Kimberly.Photo by Nelson A. King
Guest Debbie Cyrus said Lorna is "a friend to most, a confidant."
"I cannot say how much she means to me and my mother," she added. 
Another unidentified guest told Lorna: "We love you. Thank you for being genuine, thank you for being honest."
Amid the jamming of Caribbean and other vibes by Vincentian DJ Hailes Castello, Vincentian calypsonian Cyril "Scorcher" Thomas, a former diplomat, retired public school teacher in Brooklyn and cultural ambassador, entertained guests with some of his popular hits, such as "Party Fever", "Sweetness is My Weakness" and "Come St. Vincent".
"I thought it (birthday celebration) was fantastic," Thomas said. "I love the traditional African outfits that gave the celebration an African flavor, and the family in particular. Lorna and her daughters had some elegant outfits."
Trinidadian singer Hilton Samuel also serenaded Lorna with a medley of songs for the season, including "Silent Night". 
Lorna, who migrated to Brooklyn from St. Vincent and the Grenadines in January 1981, resided in the borough until 2018, when she moved to McDonough in Henry County, Ga, about a 35-minute drive from Atlanta.
She told Caribbean Life that she began teaching elementary schools in St. Vincent and the Grenadines at 16, teaching for seven years at Belmont, Belair and Calder Government Schools.  
Afterwards, she said she had one class to becoming a registered nurse in St. Vincent and the Grenadines, when she got pregnant with Kimberly in 1974. 
In the interim, Lorna said she successfully completed the police exam in St. Vincent and the Grenadines and was pursuing police training in neighboring Barbados, when the nursing authorities in St. Vincent and the Grenadines requested that she return to complete her nursing education. But, she said, the then Commissioner of Police Ben Jackson refused to let her go. 
After her police training in Barbados, Lorna said she returned to the Royal St. Vincent and the Grenadines Police Force, serving for four years as a constable, before migrating to New York. 
In New York, Lorna said worked as a baby-sitter for two years, then pursued business management studies at Borough of Manhattan Community College while working at Chemical Bank for 10 years, rising from a teller to customer service representative. 
But she said her passion to return to nursing heightened while working at Chemical Bank. Thus, in evenings and on weekends, she pursued studies in nursing at Brooklyn's Medgar Evers College, graduating as a registered nurse in 2001. 
Lorna said she worked for 20 years as a registered nurse at several medical facilities in New York, namely Wyckoff Hospital, Downstate Medical Center and University Hospital, Visiting Nurse Association of Brooklyn, and Center Light Health Center – all in Brooklyn; and the Veteran's Administration Hospital in lower Manhattan. 
Her place of employment before retirement was at Center Light Health Center. 
Lorna said she was "very grateful and thankful to God" to reach 73. 
"As far as I know, I'm in good health and have a sound mind," she told Caribbean Life. "I'm very grateful because lots of people don't live to reach that age. 
"Also, my children show me how much they appreciate me," she added. "They have been there with me. I grow with them, and they grow with me. There's not a day that they don't communicate with me."
As for retirement, Lorna said it has been "great", adding: "I sleep when I want to and wake up when I want to."