News
Reopening of Tropical Paradise Outdoor Café spacious and colorful to meet COVID-19 protocol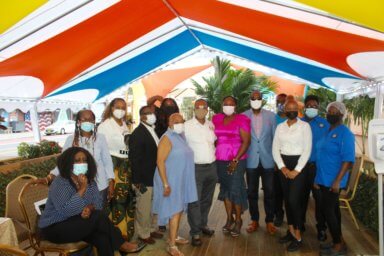 Proprietor Davis Gayle told patrons at the reopening of Brooklyn's Tropical Paradise Outdoor Café that it has been a challenging to refigure, revamp, and redesign his restaurant after five months closed due to the COVID-19 pandemic
The entrepreneur, during a Sept. 3 reception at the Utica Avenue restaurant, thanked elected officials, Community Board 17 Commerce Committee Chair Hassan Bakiriddin, and "Brooklyn Level Up" — an organization that helps businesses stay in compliance with NY rules and regulation — for their commitment to the community.
Gayle, who has welcomed mayors, hosted West Indian American Day Carnival Association events, showcased Caribbean artists, and entertained thousands of patrons at the iconic Tropical Paradise Ballroom and Catering for over 20 years, called on the community to support not only his eatery, but other small businesses across the borough as well.
Gayle, who hopes to continue serving his classic West Indian fare, such as jerk chicken and oxtail, and other popular dishes, at brunch and dinner, built the eatery's spacious curbside seating to keep with social distancing protocol, adding a colorful Caribbean style canopy that lights up the block.
Like many other restaurants working to stay afloat, Tropical Paradise offers takeout, and delivery services via third-party apps like Uber Eats, Doordash and GrubHub to satisfy the needs of hungry customers. The eatery, located at 1367 Utica Ave., opens at 11 am daily.
Congresswoman Yvette D. Clarke said she was proud that Gayle was welcoming back customers during these challenging times. The local politician quipped that this was the first time in months her mother, Una, came out — because they both could not miss the opportunity to celebrate the addition to the Tropical Paradise Ballroom.
Clarke said the community will continue to support the venue, noting that patrons should keep Carnival season in their hearts, wear their colors, raise their flags and celebrate, but stay safe, healthy, strong and blessed during the COVID-19 pandemic.
Councilmember Farah N. Louis said it was not easy to structure outdoor dining, and applauded Gayle for working hard and making the sacrifice to continue serving the community.
"Without your support, this restaurants would not survive," Gayle told supporters, reminding them of catering services and space available to host special occasions such as brunches, weddings and birthday parties.
Bakiriddin of CB17 thanked his team and others for working to keep community businesses thriving during the ongoing pandemic.
"Because of the pandemic, we needed to figure out a way to help small businesses," said the community leader, who works with others to plan reopenings.
He said this is the ninth such reopening the group has spearheaded across Brooklyn. He was happy to support Tropical Paradise — and even happier that the community came out to patronize the eatery.
"Davis and Joanne are stalwarts in this community, where they are continuously generous. We want to make sure they stay here, so we can support them, because they support us," said Bakiriddin, who is offering free services that could potentially lead to grant money, online presence development, and marketing in order for businesses to stay open.
For more information, call 646 425 1107 or 917 703-7247.
The post Reopening of Tropical Paradise Outdoor Café spacious and colorful to meet COVID-19 protocol appeared first on Caribbean Life News.