Music
Remembering the life, career of Marvin Gaye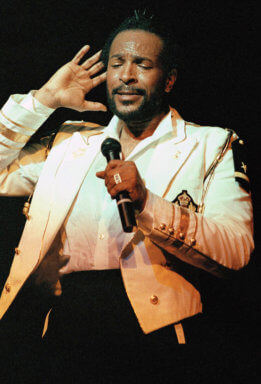 On April 2, late singer-songwriter Marvin Gaye would have been 82 years old after an almost 30-year career.
According to allmusic.com, few figures in American music in the 20th century can compare to Gaye.
"As a singer, he was without peer, possessing a silky voice that could sound either angelic or seductive or, on his biggest hit 'I Heard It Through the Grapevine,' positively haunted," it said. "As a songwriter, he was equally skilled at writing with an eye for the charts and mining the depths of his heart, a combination that created many of the enduring classics of his era: 'Hitch Hike,' 'Dancing in the Street,' 'Pride and Joy,' 'What's Going On,' 'Let's Get It On,' 'Got to Give It Up,' and 'Sexual Healing.'"
Allmusic said that list also shows how the entire history of postwar R&B can be seen through Gaye's career, stating that he harnessed gospel and cabaret to create the exuberant uptown sound of Motown in the early '60s, "but he changed with his turbulent times, pushing pop-R&B into the realms of soul by the end of the decade."
As the 1970s dawned, Allmusic said Gaye grappled with social protest on "What's Going On", the 1971 album that found the singer/songwriter charting his own "idiosyncratic course."
From that point, Allmusic said Gaye delved into funk, blaxploitation and disco, "eventually settling into the smooth environs of quiet storm.
"Throughout this period, Gaye battled personal demons, often creating powerful art through his struggles, but they caught up with him tragically in 1984, when he was murdered by his father," it said.
"Gaye's legacy resonated over the decades – he was a touchstone for soul and pop music that was either sensual or political – but his early death leaves hanging the question of what he could've achieved if he were alive," Allmusic said. "During his two decades as a recording artist, he already accomplished more than most artists do in a lifetime."
It said Marvin Pentz Gay, Jr. was born on April 2, 1939, in Washington, D.C., the second child of the Rev. Marvin Gay and Alberta Gay.
A minister in the House of God, Allmusic said Rev. Marvin Gay ran a strict household, and his son – who would add an "e" to his surname when he signed to Motown/Tamla, partially in tribute to his idol Sam Cooke – sought refuge in music.
Allmusic said Marvin Gaye sang in his father's church at the age of three and quickly rose through its ranks as a soloist. Soon, he also learned piano and drums.
Following his high school graduation, it said Gaye enlisted in the US Air Force.
"Once his service concluded, he returned to Washington, immersing himself in the city's doo wop scene," Allmusic said. "He became part of the Rainbows, who were taken under the wing of Bo Diddley, an association that led them to OKeh after he couldn't convince his label Chess to sign the group."
Allmusic said Gaye retreated from the spotlight in the 1970, "the result of personal problems and professional disillusionment."
It said he returned in 1971 with "What's Going On," "a single where Gaye deliberately embraced progressive politics and expansive music."
"Motown head Berry Gordy wasn't eager to embrace this change and refused to release 'What's Going On,' but after Gaye refused to record any other new material, Gordy relented," Allmusic said.
It said "What's Going On" reached number one on the R&B charts and two on pop, leading Gaye to record the rest of the album that March.
Two further hits followed: "Mercy Mercy Me (The Ecology)" and "Inner City Blues (Make Me Wanna Holler)," both of which topped the R&B charts and went Top Ten pop, Allmusic said.
It said Gaye reemerged on Columbia in 1982, "with the gorgeous 'Sexual Healing.'"
Spending 10 weeks at the top of Billboard's R&B charts, Allmusic said the single spent three weeks at three on the pop charts.
His star newly ascendant, Allmusic said Gaye patched up his relationship with Motown, appearing on their 25th anniversary special, and that he also sang "The Star-Spangled Banner" at the NBA All-Star Game.
But, just when it seemed like a new chapter in Gaye's life opened, "it shut just as quickly", Allmusic said.
"He returned home, deep in the throes of cocaine addiction, and wound up getting into a series of fights with his father," it said. "On April 1, 1984, Marvin Gay, Sr. shot and killed his son; Marvin Gaye would've turned 45 years old the following day."
Allmusic said "Romantically Yours", a pair of posthumous collections quickly appeared in 1985.
"'Romantically Yours' unearthed old big band material," it said. "'Dream of a Lifetime' rounded up funkier outtakes from Columbia Records and Motown."
Allmusic said while Motown released "Motown Remembers Marvin Gaye: Never Before Released Masters in 1986", the bigger project was the 1990 four-disc box, "The Marvin Gaye Collection."
"Over the three decades, Motown often repackaged Gaye's music, sometimes releasing splashy archival packages, such as 1997's 'Vulnerable', which revived a ballads album Gaye abandoned in 1977, and 2019's 'You're the Man', which collected the extant 1972 recordings from the singer," Allmusic said.
The post Remembering the life, career of Marvin Gaye appeared first on Caribbean Life News.