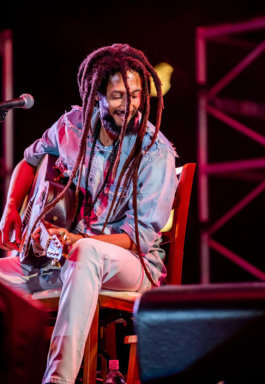 Julian Marley, son on Reggae King Bob Marley is one of the headline acts on a new compilation album titled "Reggae Vaccine" that features Gyptian, Bounty Killa, Anthony B, Jah Vinci, Ed & Jethro Sheeran, Africa superstar Shatta Wale, Wayne Wonder and Mojo Morgan from Morgan Heritage.
According to Tony Turner, the Jamaican-born owner of Images, LLC, an   entertainment promotion company, based in Poughkeepsie, upstate New York, Julian Marley is featured on the single "So High," a love ballad that is laid atop a reggae rhythm by producer Richard Roach.
Sean "Contractor" Edwards, executive producer of the disc, recalled first meeting the young Marley backstage at a concert in London.
"A close friendship blossomed and led to Julian being invited to be a part of the project," Turner said.
"It is very good to be a part of the 'Reggae Vaccine' album" Marley, a devout Rastafarian told Caribbean Life. "It ('Reggae Vaccine') has a great rhythm with so many great songs."

"Reggae Vaccine" also features Jethro "Alonestar" Sheeran and his pop star cousin Ed Sheeran, whose Grammy Award single "Shape of You" was one of the biggest songs globally in 2017.
"Sean and I have collaborated since our 2018 Billboard #1 album", Sheeran said. "To work on this project with one of my fav artists Shatta Wale and my cousin Ed Sheeran was a dream come true.
"Also, to be featured alongside the great Julian Marley I'm so honored," he added. "It's power-packed with so many great artists, great music and huge talent.
"This album certainly gives you an organic vaccine away from the troubles of this pandemic into a spiritual journey that will take you away from your worries and pain into hope, positivity and a new day filled with love & joy", Sheeran continued.
Asked if any of the Rastafarian acts featured on the disc objected to the album's name, Sheeran said: "Rastafarianism has evolved and conspiracy theories with no substantial evidence have limited effect on Rastas these days."
The "Reggae Vaccine" compilation album is now available on all digital platforms.