World
Reggae Boyz concerned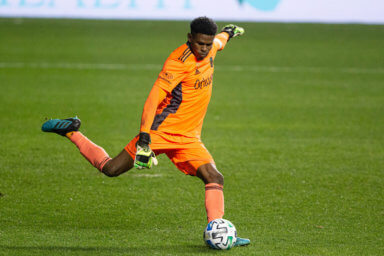 Jamaica's national football team is set for two practice matches against Saudi Arabia on Nov. 14 and 17 but at least one player is expressing doubts about safety of the matchups in that middle eastern country.
These two practice matches are in preparation for Jamaica's Gold Cup fixtures next year that could lead to qualification for the 2022 World Cup in Qatar, and the planned matches in Saudi Arabia will mark the first action for the Reggae Boyz since March 11 when they took on Bermuda in an international friendly encounter.
The Jamaica Gleaner newspaper reported Wednesday, however, that the Boyz national captain and goalkeeper, Andre Blake, expressed scepticism about protective measures against COVID-19 for all involved in the tour.
"It's a little bit scary and I am not sure about the protocols but I know when I'm in Major League Soccer (MLS) we get tested three to four times a week," Blake, who plays professionally in the US for Philadelphia Union, told The Gleaner.
"As it relates to travel for international games, I'm not sure what are the protocols as it relates to that, but I'm pretty sure that they [Jamaica Football Federation] should be putting some things in place."
While saying that he will be watching the situation 'day-by-day' before making a decision, he added, "you always want to represent your country. I'll be communicating with the team manager and coach [Theodore] Whitmore as we get close [to the games].
"I'm pretty sure they will be communicating with my club as well to see what's the best decision and how we move forward."
Jamaica is assembling a 23-man squad comprising local and overseas-based players for the fixtures set for the Prince Faisal bin Fahd Stadium in Riyadh
Team manager, Roy Simpson, said that he has been asking for COVID-19 tests for called-up overseas-based players in preparation for the upcoming friendlies and that he does not expect those call-ups being declined.
"They understand, just like we do, the climate that we are operating in as it relates to COVID-19. We do not foresee any player not wanting to participate because of what is happening.
"We have assured all our partners that the safety and well-being of everyone is paramount," Simpson reportedly said.
The post Reggae Boyz concerned appeared first on Caribbean Life News.