News
President Ali in proactive move against racism allegations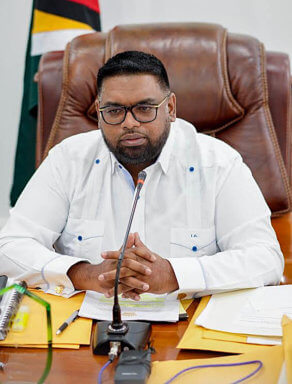 Guyanese President Irfaan Ali and a team of top officials including military Chief of Staff Brig. Gen. Omar Khan are in Washington DC for a series of important meetings this week including a session with the Congressional Black Caucus.
His presence in the US capital is of serious political importance as meetings with key players, the Caucus especially, in Washington are taking place ahead of a diaspora and opposition-organized two-day conference on racial discrimination in Guyana in the US capital at the end of September.
Ali, elected president three years ago, has been pushing a One Guyana unity team ever since he took office in August of 2020 but it has been scoffed at by opposition parties, some civil society groups and many in the Afro business community as they have complained bitterly that the hog of massive state contracts and other forms of largesse are being handed mainly to Indo Guyanese in a stunning transfer of wealth to this group, charges authorities have vehemently denied.
Two recently completed studies on contract awards and the sharing of resources by the state appear to bear out allegations of rampant and systematic discrimination by the state. Ali is expected to counter this with the Caucus, a full two weeks before the conference at the prestigious National Press Club.
The visit is widely being seen as an attempt to get ahead of ideas and plans of the Guyana Caribbean Institute for Democracy (GCID), the main organizer of the sessions, that will include participation by the Black Caucus, House Minority Leader Hakeem Jeffries and others. Ali is also scheduled to address a session of the Organization of American States (OAS), meet with State Department officials and the top brass at the National Defense University among other agenda items.
The politically connected GCID has persistently accused the governing People's Progressive Party (PPP) of systematic racism against Guyanese of African descent who make up about 34 percent of the population compared to 38 for Indos, complaining about "the Ali administration's racist policies, corruption in Guyana and the regime's systematic efforts to shut out Blacks from economic empowerment."
Public Affairs Minister Kwame McCoy has argued that the administration is not being given a fair political shake by the opposition and some Afro groups, pointing to house lot allocation awards by the thousands to Afro Guyanese and free in-person and online university scholarships to hundreds of young people by the government.
Apart from racism and racial discrimination, the PPP regime's abuse of the police force to target African Guyanese citizens and as well as the regime's reckless and unlawful seizure of lands owned by African Guyanese will also be raised," at the conference GCID head Rickford Burke said.