News
Phylicia Rashad directs 'Dangerous Acts'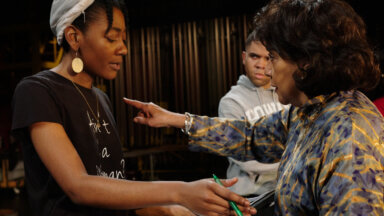 ALL ARTS, the New York Emmy-winning streaming platform and TV channel, announces the premiere of "Dangerous Acts", a House Seats special directed by renowned actress and Dean of Howard University's Chadwick A. Boseman College of Fine Arts Phylicia Rashad.
Produced by New York's Lucille Lortel Theatre in partnership with the Howard University Department of Theatre Arts, "Dangerous Acts" explores the historic works of two prolific African American playwrights, Mary P. Burrill and Willis Richardson, through a staged reading of Burrill's "Aftermath" and Richardson's "The Deacon's Awakening," performed by Howard University students under the direction of Dean Rashad.
The program will feature a series of critical reflections on the enduring legacy of Burrill and Richardson, including the historic and contemporary significance of the plays and the cultural context in which they were composed.
"We are delighted to partner with the Lucille Lortel Theatre and Howard University to celebrate the long lineage of Black theater-makers with the next generation of actors and audiences through the visionary early 20th-century work of Mary P. Burrill and Willis Richardson," said James King, senior artistic director of ALL ARTS.
Dean Phylicia Rashad on the set of 'Dangerous Acts.'Courtesy of the Lucille Lortel Theatre
"Dean Rashad offers a renewed understanding of the historic and contemporary significance of these singular playwrights and their work for audiences today," he added.
"With these long-neglected works by Mary P. Burrill and Willis Richardson, we are thrilled to inaugurate an exciting and fruitful partnership with Howard University and ALL ARTS," said George Forbes, executive director of the Lucille Lortel Theatre. "Most of all, we are overjoyed to collaborate with the gifted students and brilliant faculty at Howard.
"With this program, the Lucille Lortel Theatre strives to uplift powerful Black voices that have inspired generations of artists, while fostering the education of the next wave of Black theatre makers," he added.
Dean Rashad said: "This was a labor of love from start to finish –– exquisite and fulfilling; truly, this represents a full circle moment in time for me."
"Dangerous Acts" premiered on Tuesday, Mar. 21 at 9:00 p.m. ET on ALL ARTS TV, the free ALL ARTS app and AllArts.org/HouseSeats.
About ALL ARTS 
ALL ARTS is breaking new ground as the premier destination for inspiration, creativity and art of all forms.
This New York Emmy-winning arts and culture hub is created by The WNET Group, the community-supported home of New York's PBS stations.
With the aim of being accessible to viewers everywhere, ALL ARTS' Webby-nominated programming – from digital shorts to feature films – is available online nationwide through AllArts.org, the free ALL ARTS app on all major streaming platforms and @AllArtsTV on YouTube, Facebook, Instagram, Twitter and TikTok. New York area TV viewers can also watch the 24/7 broadcast channel. For all the ways to watch, visit AllArts.org/Everywhere.
About Lucille Lortel Theatre  
The Lucille Lortel Theatre's mission is to foster both new and established artists, increase awareness and appreciation of Off-Broadway, and uphold fair and equitable business and artistic practices in service of creating a larger, more diverse community of theatre makers and audiences.
The Theatre recently produced Four Saints in Three Acts, performed by David Greenspan, and co-produced Kate Berlant's sold-out one woman show Kate, both New York Times Critic's Picks.
Its programs include NYC Public High School Playwriting Fellowship, Fellowships in Theatre at Bennington College, The Lucille Lortel Theatre Music Theatre Lab: Immigrant Experiences at The New School, Lucille Lortel Awards and Playwrights' Sidewalk, Live at The Lortel (a video interview and podcast series), Internet Off-Broadway Database (IOBDB.com), Non-Profit Theatre Strategic and Management Services, and Subsidized Theatre Space.
For more information, please visit www.lortel.org.