World
OLYMPIAN BACKS SPORTS OFFICE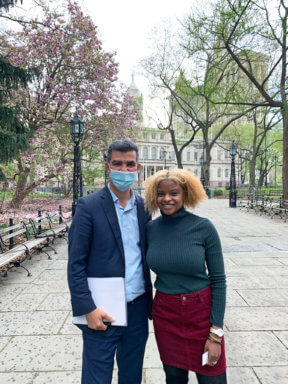 Vincentian American Fencing Olympian, Nzingha Prescod has been in the vanguard of legislation introduced in the City Council for the establishment of the Mayor's Office of Sports, Wellness and Recreation.
On April 21, Council Member Ydanis Rodriguez held a press conference, alongside Borough President Eric Adams, Office of the Public Advocate Jumaane Williams and a coalition of leaders in the New York City sports community, to discuss the details of Intro 1959, establishing the Office.
The measure is currently supported by Brooklyn Borough President Eric Adams, Manhattan Borough President Gale Brewer, Public Advocate Jumaane Williams, Speaker Corey Johnson, and a collation of different sports groups and institutions.
"This legislation is historic because it's the first step towards changing the exclusionary nature of our current sports system," said Prescod, two-time Vincentian American Fencing Olympian and East Flatbush, Brooklyn resident, who was selected as an athlete director on the USA Fencing Board of Directors, beginning on Jan. 1, 2021.
USA Fencing said Prescod, 28, whose mother is Vincentian lawyer, Marva Prescod, was elected with 2012 Paralympian Cat Bouwkamp, of Fishers, Ind.
"Every child is deserving of quality sport education, not just those who can afford it," the Olympian said. "This bill will integrate sport into the lives of young New Yorkers and equip them with the tools to become the best version of themselves in sport and in life. They deserve that opportunity.
"I would like to thank the public officials who have made this office a reality —
Councilmember Rodriguez, Public Advocate Jumaane Williams, Speaker Johnson and Brooklyn Borough President Eric Adams," she added. "I would like to thank the community partners that have been instrumental in making the case for city support of equitable sport. I'd like to thank all the organizations that have helped address this issue of sports equity, including Ernst & Young.
"Finally, I would like to thank my village," Prescod continued. "My mom and sister, and the Peter Westbrook Foundation. This platform would not exist without them, and it's part of Peter's legacy! Much love to them and my city."
She said the Mayor's Office of Sports, Wellness, and Recreations would be responsible for creating strategies and initiatives to support youth sports activities throughout New York, and create a pipeline for disadvantaged children to be placed in competitive sports programs and competitions.
The Office would also provide access to sports-related opportunities for students and promote the role of sports in education and recreation; make recommendations for the growth of professional, amateur and scholastic sports recreation; and coordinate sports initiatives with other city agencies, including the Department of Education, the Department of Health and Mental Hygiene, and the Department of Parks and Recreation.
In addition, Prescod said the Mayor's Office of Sports, Wellness and Recreations would be responsible for creating strategies and initiatives that will help the City become a major sports competitor across the country and the world.
"These strategies and initiatives will create a pipeline for all youth in New York City to be placed in competitive sports programs and competitions," she said.
"This was years in the making!" Prescod told Caribbean Life on Tuesday. "I've been committed to this vision since Columbia (University) days, where I studied through the lens of 'how sport can be used to mobilize communities,'" Prescod added. "Since then, it's been advocacy and organizing.
"Councilmember Rodriguez introduced the bill, and we teamed up to envision an office based on 20 years of experience in sport and the research I've done around opportunity inequities," she continued. "I've lived the power of sports and know it's a gift. Every child deserves the chance to be inspired by the sport, not just those that can afford it.
"This is a first step towards a universal approach to sports," Prescod said. "I'm really proud to be a change-maker for my city and to collaborate with all the players that made this possible."
The first African-American fencer to win an individual medal at the Senior World Championships with a bronze in 2015, USA Fencing said Prescod was instrumental in leading the US Women's Foil Team to three straight medals at Senior World Championships, including the squad's first-ever gold in 2018.
A graduate of Columbia University, with a bachelor's degree in political science with a concentration in race and ethnicity, Prescod is one of the founding members of USA Fencing's Diversity, Equity, Inclusion and Belonging Resource Team, USA Fencing said.
Prescod, a two-time Olympic fencer, with five World Championship titles, said among her most notable sport accomplishments was becoming the first Black woman to win an individual medal at the Senior World Championships when she claimed bronze in 2015.
In July 2018, she and her team captured Team USA's first-ever World Championships gold medal for the USA Foil.
Prescod is an eight-time World Championship medalist, the most decorated Black female in USA fencing history, and has ranked as high as no. 5 in the world.
In January 2013, then Brooklyn Councilman Jumaane D. Williams, now New York City Public Advocate, honored Prescod, who, the previous summer, competed in the women's foil in fencing at the London Olympic Games.
Prescod, then 20, was a sophomore at the prestigious Columbia University.
Prescod said she discovered fencing as a young girl after her mother read a newspaper article about the prestigious Peter Westbrook Foundation, a New York City-based fencing clinic for youth from underserved communities.
After learning that several participants were competing in the Olympic Games in 2001, the elder Prescod enrolled both of her daughters in the foundation's Saturday fencing lessons.
That same year, just nine years old, Nzingha Prescod said she held her first foil, quickly igniting her passion for fencing.
Since she was 14, Prescod said she has been competing in international fencing competitions.
She won the U-17 World Championships in 2008 and 2009, as well as the 2011 U-20 World Championship.
Prescod said she was also a member of many gold-medal winning teams in the Cadet World Championships (2007, 2008 and 2009), the Junior World Championships (2011), the Pan-American Games (2011) and the Senior World Championship Teams (2009, 2010 and 2011).
The young fencer has established Fencing in the Park (FITP) in Brooklyn, a community-based, outdoor summer series introducing the less visible sport of fencing to children of color that are unlikely to access it.
Prescod said Olympic, national team, and National Collegiate Athletic Association (NCAA) athletes joined together to lead the sessions.
She said FITP has enrolled more than 40 kids from underrepresented neighborhoods, such as East Flatbush, Flatbush, Brownsville, Bed-Stuyvesant and Crown Heights.