World
NY volcanic relief pivots to clean-up, recovery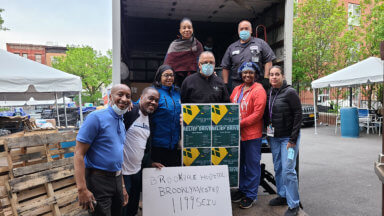 As relief efforts continue in the United States for volcano-ravaged St. Vincent and the Grenadines, the Brooklyn-based SVG Relief Committee, Inc. is pivoting towards clean-up and recovery efforts.
"Our relief effort continues," Verna Arthur, chairperson of the SVG Relief Committee, Inc. told Caribbean Life Wednesday morning. "We have pivoted and are now concentrating on the clean- up/recovery phase.
"We are on pause, not a complete stop," added Arthur, stating that the main relief base in Brooklyn is at the Friends of Crown Heights Educational Center, 671 Prospect Pl.
"Instead of persons dropping off items, persons are now encouraged to call for a scheduled pick-up," continued Arthur, a prominent Vincentian cultural and community figure in Brooklyn. "They are kindly asked to state what they are donating. This approach affords us the opportunity to control what's being donated."
She said items – such as water boots (sizes 9-12), power washer, power hoses, goggles, garden shovels, forks, scrubbing brooms, etc. — are needed for the clean-up/recovery phase.
To schedule a pickup, Arthur asked that she and/or other members of the Committee be contacted, including: Arthur – 718-758-2416; Celia Bramble- 347-668-0774; Laverne McDowald-Thompson – 347-385-6227; Atiba Williams 347-898-7501; Garnes Byron – 917-856-9722; and O'Brien Simmons – 347-446-1827.
Arthur said financial donations are on-going and that persons can donate via: Zelle: [email protected] and PayPal: http://bit.ly/3dqvnAF.
Checks can also be written, payable to: SVG Relief USA, Inc. Mail to: 1654 Troy Ave., Brooklyn, NY 11234.
Byron – who last Friday received 15 barrel of food stuff, PPEs and other relief items from workers at Brookdale Hospital Brooklyn-vested 1199 SEIU and Clarendon Road Church in East Flatbush, Brooklyn — told Caribbean Life: "We are in this for the long haul.
"Once you say. 'St. Vincent and the Grenadines', I'm there," said Byron, the Committee's assistant public relations officer. "I went through it (volcanic eruptions) in '79, so I know what the people are going through.
"I'm even planning to take a two-week vacation to go down and help out — do some power-washing," Byron added. "I did it before (power-washing in Kingstown, the Vincentian capital).
"Atiba Williams (the Committee's the public relations officer) and I are hoping to go down and help out," he continued, disclosing that they plan to travel during the first week in June, "providing the quarantine protocol does not change."
"Once there's a disaster, and I have the health and strength, I 'll be out there doing stuff to get it to St. Vincent and the Grenadines — no matter what the disaster is," said the very patriotic, hardworking Vincentian.
Meantime, PricewaterhouseCoopers (PwC) in the Caribbean and the PwC Charitable foundation have collectively raised over US$100,000 for disaster relief and recovery efforts in St. Vincent and the Grenadines, reported the Barbados Advocate on Sunday.
PwC is a global network of firms delivering assurance, tax and consulting services for businesses.
On April 9, 2021, La Soufriere Volcano in St. Vincent and the Grenadines erupted explosively, sending ash and gas plumes miles into the sky and affecting neighboring Caribbean islands, the Advocate said.
It said the eruption – the volcano's first explosive event since 1979 – has displaced about 20,000 people and left the entire population of 110,000 people without clean drinking water or electricity.
The Advocate said the partners and staff of PwC firms, operating in the Caribbean, contributed a total of over US$71,000.
The funds, which were raised by firms in The Bahamas, Bermuda, British Virgin Islands, Cayman Islands, East Caribbean (Barbados and St. Lucia), Guyana, Jamaica, and Trinidad and Tobago are being donated to the Caribbean Disaster Emergency Management Agency (CDEMA), the Advocate said.
In addition, it said the PwC Charitable Foundation approved a grant of US$30,000 to the St. Vincent and the Grenadines Red Cross, through the American Red Cross.
A donation of US$10,000 was made by L&F Indemnity Limited (L&F), the Bermuda-based captive insurance company for the PricewaterhouseCoopers network of firms, the Advocate said.
"We stand in solidarity with the people of St. Vincent and everyone affected by La Soufriere's eruption," the Advocate quoted Frazer Lindsay, chief executive officer of Pricewaterhouse Coopers Caribbean Region, Ltd., as saying. "As we have done in the past with natural disasters in our region, our people have rallied quickly to demonstrate our support for those most in need, and we thank them for their tremendous efforts."
Mike Bynoe, Territory Leader, PwC East Caribbean said: "We are one Caribbean family; and, at this time, our thoughts are with our Vincentian brothers and sisters.
"Although we are grateful that no lives have been lost, we recognize the magnitude of the economic, social and environmental challenges they and others are facing as the volcano continues to erupt," he said. "The recent flooding and subsequent mudslides have also added to the country's misery, affecting areas already heavily damaged by the volcano.
"Their road to recovery will be long but not without support from us and many others across the globe," Bynoe added. "Our teams have been incredibly generous in respect of the donations that they have made to this initiative, and I would like to add my heartfelt thanks to them."