News
'Not in My Backyard' cleans up Farragut Road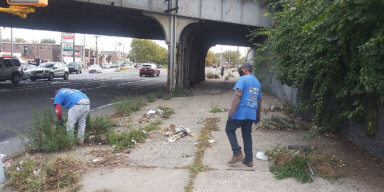 City Council candidate Anthony Beckford says his "Not in My Backyard" community group on Friday took the initiative to clean up a portion of Farragut Road in East Flatbush, Brooklyn that has been the site of illegal dumping.
Beckford, the son of Jamaican immigrants, who is vying for the 45th Council District in next year's Democratic primary, told Caribbean Life on Monday that his team was joined by community members, the Department of Sanitation and local small business, DPH Property Maintenance Service in cleaning up the area.
"Before COVID, there were disparities that our community endured. Due to the recent City Council Budget vote, Sanitation's budget was cut by $100 million, which minimized service and allowed the already problematic area of Farragut Road between Utica Avenue and Kings Highway to go untouched and for illegal dumping to go unchecked," said Beckford, president of Black Lives Matter Brooklyn.
He noted that Brooklyn Borough President Eric Adams has helped to put a spotlight on the issue.
"I would like to thank the Department of Sanitation for assisting with the removal of the heavy debris on Friday, which allowed my crew and I to do a thorough cleaning of that area," a US Marine Corps veteran and community leader.
"I will be expanding this cleanup to various parts of the district and welcome all community members to get involved," he added. "I will also be working with various community members who have volunteered to help monitor areas like the Farragut Corridor, so that we can catch the illegal dumpers, hold them accountable and continue our mission in beautifying our community."
In addition, Beckford said he will be setting up meetings "to find a way to transfer ownership of the abandoned, burned out Qualimaxx Car Wash to the City, so that the community can decide on whether they would like a community center, senior center or 100 percent affordable low-income housing to be developed there."
The post 'Not in My Backyard' cleans up Farragut Road appeared first on Caribbean Life News.