News
Nominate someone for the Annual Caribbean Life Annual Impact Awards!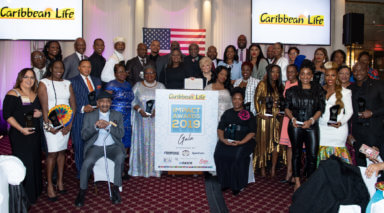 New York City is home to some of the largest concentrations of Caribbean Americans. With news both about the Caribbean and NYC, Caribbean Life is a news source with coverage ranging from politics, culture, sports, and the arts.
With its iconic yellow-and-orange front page, Caribbean Life has been bringing news to Caribbean New Yorkers for 30 years.
For the past six years, Caribbean Life has been honoring professionals with a Caribbean background whose contributions and achievements have made a large impact in their respective fields at their Annual Impact Awards.
The next complimentary virtual Caribbean Life Annual Impact Awards event is Jan. 21, 2021 celebrating 2020 honorees.
Caribbean Life's Annual Impact Awards recognizes the achievements and contributions of outstanding individuals of Caribbean background who have created the most impact in their respective fields – from healthcare, the arts, to advocacy, entrepreneurship and much more.
Notable honorees in past events include:
Angela Cooper, assistant director of communications at NYC Health + Hospitals/McKinney and the CEO of The Coral Reef Experience
Danielle Jones, the regional director to the New York State Comptroller who founded the Young Caribbean Professionals of Westchester (YCPW)
Along with many other notable individuals in the Caribbean American community.
As a sponsor you will be in good company with Spectrum as a continued Caribbean Life Impact Awards sponsor.  Your company/brand will be acknowledged during opening remarks of the Gala and you can receive a profile for an honoree from your own company and more!
If you or someone you know is an individual with a Caribbean background that has made a great impact in their field, nominate them to be a recipient for the Caribbean Life Impact Awards below!
http://www.caribbeanlifeimpactawards.com/Nominate2020
For information about Caribbean Life Impact Awards, contact Amanda Tarley at [email protected] or 718-249-9640.
The post Nominate someone for the Annual Caribbean Life Annual Impact Awards! appeared first on Caribbean Life News.