World
Natural hair wear ban by Jamaica's Supreme Court sparks dread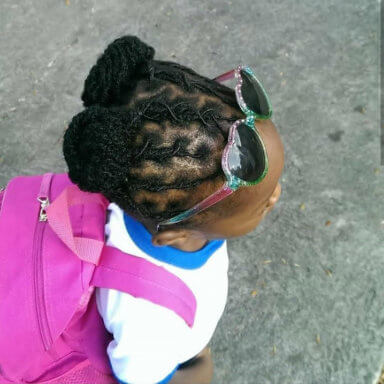 It seems like a century ago — back in the 20th — that Robert Nesta Marley, the avowed king of reggae penned lyrics lauding the global trend of wearing natural hairstyles fashioned by dreadlocks.
"Dread Natty Dread — Dreadlocks inna Babylon…Natty dreadlocks inna Zimbabwe…21,000 miles from home…' the 1974 release garnered pride associating African identity.
The song became infectiously popular and with it endorsed an audience base with supporters of the Rastafari doctrine as well as reggae fans — of all races — to a wash and wear lifestyle while also freeing wearers from the traditional brush, comb, tease, straightening regimen.
As a matter of fact, Marley was convinced that the global display and accepted fashion statement by people of all races would exalt the Africentric tradition he envisioned when he repeatedly punctuated verses singing "I 'n' I gonna have things our way."
However, in the 21st century and on Emancipation Day in the beloved birthplace of the legend a decision by the Supreme Court banned a seven- year-old student from attending school if she persisted in wearing dreadlocks.
Judge Sonia Bertram-Linton ruled the school was within its rights to impose its policy of "no braids, no beads, no locking of hair."
"It is time to review and amend the Education Act," Prime Minister Andrew Holness said of the decision. He added that "Our Children must not be discriminated against or deprived of their right to education."
Following that statement, Senator Donna Scott-Mottley, Opposition spokesperson for the People's National Party (PNP) criticized it saying it was "hypocritical."
"This statement also rings hollow," she added, "it was his attorney general who went to court to give Kensington Primary School a right to bar the student from entering a government school."
Nationals at home and abroad chorused similar sentiments on social media. The blowback seemed to quickly register reform of colonial practices by the British with the launching of the Education Transformation Commission 2020.
The leader's explanation was that the commission was established "to reflect a modern and culturally inclusive position that protects our children from being barred from any educational institution on the basis of wearing locks."
Marley died in 1981 but his son Julian did not hesitate to decry the untimely judicial decision from the second highest court on the island.
The dreadlocked benefactor of his father's legacy said it was a "disgrace" that Jamaica celebrating 58 years of independence would be going backwards.
He said his father would be disappointed.
The next generation Marley, a Grammy-nominated recording artist was joined by some of the top reggae recorders on the island.
Dancehall deejay Bounti Killa adamantly contended that on the Aug. 1 national holiday citizens should declare "No Emancipation With Discrimination."
Grammy winning dreadlocked deejay Beenie Man, Taurus Riley and Spragga Benz agreed.
"There's no justice," Sherine and Dale Virgo, parents of the student reportedly said.
"It's just backward thinking and bureaucratic ideals being enforced," the father told media outlets.
Virgo added that when schools reopens next month he intends to maintain his stance and will not neither cut his daughter's hair nor remove her from the prestigious primary school.
Now in the process of appealing the decision the couple said their choice of wearing dreadlocks is symbolic and identifies them despite the fact they are not Rastafarians.
"They are still infringing upon our rights and the ruling says once you have locks, you're a nasty person. The country that you're a citizen of should be protecting her. But if they're not doing that, then we have to protect her."
Olivia Grange, Jamaica's minister of culture, gender, entertainment and sport, said many schools accommodate Rastafarian children who wear dreadlocks.
"It is the position of the government of Jamaica. . . that no child should be barred from accessing educational services by reason of wearing locks and any gaps in our framework will need to be revisited," she said.
"This and previous Jamaican governments have accepted students wearing locks in schools for many years, some requiring male students to cover their locks.
She vowed "This government will do nothing to stop this practice. Locks are an accepted hairstyle in Jamaica, even outside of those who live the Rastafari faith, including members of our national parliament."
Her adversarial counterpart demanded a policy directive must be issued to all schools, ahead of their reopening next month.
The senator added that the parents of the student have been assured that the PNP stands in full solidarity with their decision and has fought to ensure justice for their daughter.
"Under our constitution she can be whatever she wants to be, wearing locks, as I have done for over 20 years," Sen. Scott-Mottley said.
Since the stand-off, Bishop Alvin Bailey, chairman of the Kensington Primary School board, said the child "has a place in school."
"The child has been there all along from first grade on through the entire second grade and the child is expected to report to school in September when school reopens."
He provided relief to a concerned global community adding that "the child was never barred from school."
Catch You On The Inside!
The post Natural hair wear ban by Jamaica's Supreme Court sparks dread appeared first on Caribbean Life News.