News
Mayor recognizes Stalwarts Youth at backpack event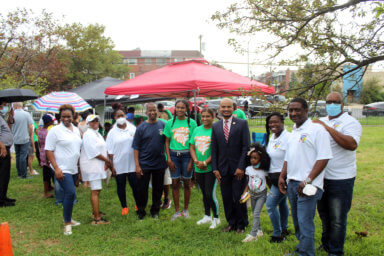 Mayor Bill deBlasio's Office has honored the Stalwarts Youth of Brooklyn during its Aug. 26 back-to-school event in Seaview Park, where scores of students received backpacks filled with school supplies.
Founding member, Anaya Lee Willabus, accepted the honor from Senior Community Liaison, Mayor's Community Affairs Unit, Rohan Narine, who inspired the youth in their pursuit of education, and encouraged them to give back to their community.
Celebrating its fifth year of stellar programming to engage youth, the group partnered with the Guyanese American Law Enforcement Association, Catholic Charities, PCNY in the streets 4mycity.us, and GrowingSoul's Rox Anna Cameron, to host the day of giving.
And as part of the organization's aim to keep youth healthy and safe, members received hand sanitizer and masks from Senator Roxanne J. Persaud, in whose district the event was held.
The program that was extended to students of Marine Park, on April 28, delivered more than 400 donated book bags stuffed with educational supplies including notepads and pencils.
Stalwarts Youth CEO, Dimple Willabus applauded the youth on their milestone, noting that the group was meeting the needs of residents who suffered food insecurity, and shortage of learning items due to the on going COVID-19 pandemic.
She thanked the Guyanese American Law Enforcement Association (GALIA) for its partnership, and its commitment to working with the community.
Willabus said these programs also help to bring the community together, to heal after the loss of love ones to the coronavirus. "Unity in community," she stressed.
Mark Holder, president of GALEA in turn expressed how important it was to support children who were doing well in school and in their communities.
"This is a great initiative that helps to give back to the community. Stalwarts Youth are the future. We support them one hundred percent, and we are happy to provide snacks, so they can go back home feeling good about themselves," said Holder.
The fraternity, which comprises NYPD officers, hosted a town hall meeting with the Guyanese community to discuss the needs of neighborhoods while providing support, said Holder.
The post Mayor recognizes Stalwarts Youth at backpack event appeared first on Caribbean Life News.