Music
May merriment returns multi-cultural DanceAfrica to BAM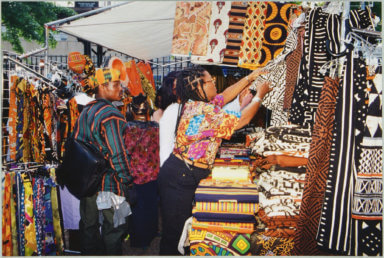 Kings County residents are already aware of DanceAfrica's alluring attractions that distinguishes the borough for annually hosting the largest festival dedicated to African dance and music and also one that culminates on a holiday after a month's worth diverse cultural exhibitions at the Brooklyn Academy of Music.
They know that for 45 years the May tradition features films, art exhibitions, tributes, parades, recitals and a plethora of eclectic offerings to jump-start summer revelry.
No longer a privilege enjoyed by residents of the most populous borough Of New York City, the word is out that DanceAfrica is the destination for guaranteed merriment throughout the month and particularly during the Memorial Day holiday weekend.
If only to leisurely stroll through a bazaar filled with fashion, unique hand crafted items, colorful African designs, decorative home décor and a plethora of cultural treats from 150 vendors, or maybe sniff and sample the aroma of cuisines from the Caribbean and the continent that inspire their culinary origins, the free, outdoor, spectacle is well worth a day's outing.
Beginning on May 3 with dance classes from choreographer Sandella Malloy of the Harambee Dance Company, teens and adults are able to register for sessions focusing on the techniques of West African dance practices.
That along with a combination ensemble from the Bambara Drum and Dance integrates Afro-Cuban and West African styles to explore the similarities and differences between the two cultures.
Led by artistic directors Noelani Love and Jewel Love, movement and music are essential to programs choreographed by the specialists.
Other workshops will also be choreographed by dancers representing LaRoque Bey School of Dance and Asase Yaa African American Dance Theater on May 14.
The Council of Elders slates a Tribute to the Ancestors on May 21. Libations will be poured in tribute to the ancestors with drumming and dancing integral to rituals marking the annual tradition.
The entire day will be devoted to a free, community celebrations of African traditions. From May 26 the Memorial Room will open for an abundance of surprises. Five dance companies from New York and Washington D.C will take center stage to deliver homegrown performances of African dances beginning from May 27 to May 30. The DanceAfrica presentation will be choreographed by Abdel R. Salaam.
FilmAfrica will continue through June 2 with a plethora of films representing a decade since the festival integrated African productions to the festival. Vintage films formerly screened at the festival will be featured. Highlights include films from Ethiopia, Nigeria, Senegal, Guinea-Bissau, Mali, Congo, South Africa, Marseille and their diasporas.
A late night dance party with DJ YB also offers a one night only session on May 28 at 10 p.m. Patrons will be able to sweat through selections spun to Afrobeat, soul, rock, funk and hip-hop music.
Aside from DanceAfrica, the BAM calendar slates May 20 for a special appearance by Mavis Staples. The revered Civil Rights activist who appeared in the recently named Oscar-winning "Summer of Soul" documentary is a beloved folk singer. She is reputed for her association with Dr. Martin Luther King Jr.; her performance at the inauguration proceedings for President John F. Kennedy and also entertaining the first Black family at the White House during the Obama administration.
Fore details check www.bam,org
Catch You On The Inside!