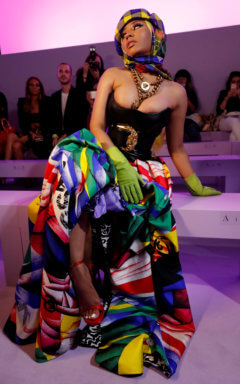 An online music site created by music buffs says some of the most talented singers and bands that have made it big in America have come from the islands of the Caribbean.
In its latest edition, Spinditty.com identified Rihanna, Bob Marley, Nicki Minaj, Gloria Estefan, Wyclef Jean, The Baha Men, Boney M., Heavy D, Billy Ocean and T-Connection among its top 10.
Others on the list of the top 15, in order of ratings, are: Sean Kingston, Natti Natasha, Omi, Johnny Kemp and Grandmaster Flash.
Spinditty said Pop and R&B superstar Rihanna came from modest beginnings.
"Growing up in Barbados, she struggled with an unstable family environment, faced down personal illness, and never graduated from high school," it said. "However, upon being discovered by an American record producer in 2003, the young songbird left her past behind."
After wowing Jay-Z, she was quickly signed to his Def Jam Recordings music label, Spinditty said.
In 2010, Rihanna set a Guinness Book world record as the female artist with the most US number-one singles in a year.
By 2019, she had become the richest female musician in the world and had snagged multiple Grammy Awards along the way, according to Spinditty.
Her long list of number one hits include: "SOS" (2006); "Umbrella" (2007); "Take a Bow" (2008); "Live Your Life" (2008); "Disturbia" (2008); "Rude Boy" (2010); "Only Girl (In the World)" (2010); "What's My Name?" (2010); "Love the Way You Lie" (2010); "S&M" (2011); "We Found Love" (2011); "Diamond" (2012) and "Work" (2016).
Spinditty said Bob Marley was not simply a Jamaican reggae singer "but instead a trailblazer for the genre.
"He was also a cultural phenomenon, a symbol of Jamaica, and a Rastafari icon," it said, stating that Marley released reggae, ska and rocksteady music as a solo artist as well as collaboratively with others.
Specifically, in 1963, Spinditty noted that Marley formed a group called Bob Marley and the Wailers, together with Peter Tosh and Bunny Wailer, later adding other Jamaican musicians.
Five of Marley's albums are on Rolling Stone's list of "500 Greatest Albums of All Time."
But Spinditty said "Roots, Rock, Reggae" (1976) was, in fact, the only single to reach the US Billboard Hot 100.
The following songs found minor success at the time on the R&B and/or dance charts, according to Spinditty: "Exodus" (1977); "Waiting in Vain" (1978); "Could You Be Loved" (1980) and "Sun Is Shining" (1999).
Spinditty said Nicki Minaj is known for her colorful wigs, costumes and her accents "as much as she is for her sexually provocative lyrics and rapid-paced vocals."
"Some people regard the singer and rapper as the 'Black Lady Gaga' for her fashion choices," it said, stating that the future Queen of Rap was born in Port-of-Spain, the capital city of Trinidad and Tobago, to two part-time gospel singers.
With her family relocating to the Bronx when she was only five, Minaj spent her youth building her skills in acting and singing, according to Spinditty.
In 2009, it said the Trinidadian musician was discovered by rapper Lil Wayne and signed to a recording contract.
She later appeared as a judge on American Idol and contributed to several major films.
In 2017, Spinditty said the hip-hop artist set a Guinness Book of World Records for the most Billboard Hot 100 entries by a solo (female) artist.
"Amazingly, seven of Minaj's singles were simultaneously on the chart," it said, adding "the Caribbean girl from the troubled family has become one of the most influential people in the world."
Spinditty said Minaj has experienced resounding success on the mainstream pop, R&B, and rap charts.
Examples of some of her hits include: "BedRock" (2009); "Your Love"; (2010) "No Frauds" (2017); "MotorSport" (2017) and "Chun-Li" (2018).
Gloria Estefan is a native Cuban, born under the name of Gloria María Milagrosa Fajardo García.
As a child, she fled Havana during the Cuban Revolution with her family for a better life in the United States, Spinditty said.
It said her mother endeavored to support the family on a teacher's salary after Gloria's father was diagnosed with multiple sclerosis.
In 1975, the future Grammy Award winner met fellow Cuban musician Emilio Estefan, Jr. while his band (then called the Miami Latin Boys) performed at a wedding that Gloria and her cousin were attending as guests, according to Spinditty.
It said that when the girls sang two songs extemporaneously, the band asked them to join them as full-time vocalists.
The group subsequently morphed into the Miami Sound Machine. Gloria and Emilio married three years later.
Decades after the Latin pop artist fled Cuba, she would earn accolades to include the Presidential Medal of Freedom, induction into the Songwriters Hall of Fame, and the American Music Award for Lifetime Achievement, Spinditty said.
It said some of her most notable hits (credited as a solo artist or with the Miami Sound Machine) include: "Conga" (1985); "Bad Boy" (1986); and "Cuts Both Ways" (1991); and "Coming Out of the Dark" (1991).
Wyclef Jean was a featured artist from hits such as "No, No, No" by Destiny's Child (1997) or Shakira's "Hits Don't Lie" (2006).
Spinditty said Jean is a Haitian rapper and singer who relocated to the US with his family when he was only nine.
In the 1980s, it said the Caribbean native formed a hip-hop trio called the Fugees (short for "refugees") with Lauryn Hill and fellow Haitian-American Pras Michel.
"They were met with moderate success," Spinditty said, adding that the group had one single break the Top 40 of the Billboard Hot 100, "thereby technically making the Fugees a one-hit wonder."
Before disbanding in 1997 to pursue solo careers, the Fugees placed several other songs on the R&B charts.
Examples of Jean's solo shits include: "We Trying to Stay Alive" (1997); "Gone till November" (1997); "911" (2000) and "Two Wrongs" (2002).
The post MAKING IT BIG appeared first on Caribbean Life News.