World
Louis wants Caribbean community to recognize historical significance, global impact of Haitian Revolution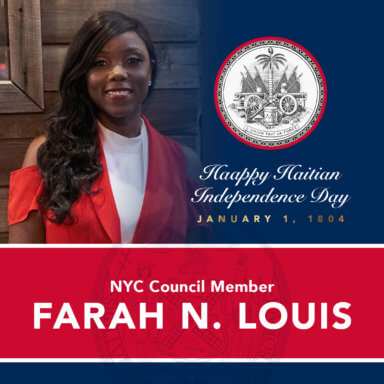 A Caribbean American legislator in Brooklyn on Monday urged the Haitian and Caribbean communities to recognize the historical significance and global impact of the Haitian Revolution.
"Yesterday, the Haitian community – locally and abroad –celebrated their Declaration of Independence from French rule which occurred on this exact date in 1804," said New York City Council Member Farah N. Louis, the daughter of Haitian and Bahamian immigrants. "More than 200 years later, the vibrant people of this island-nation remain resilient and determined to overcome any setback. 
"As we recount the stories of our ancestors and the successful slave revolt that would forever change the world, we must also recognize the historical significance and global impact of the Haitian Revolution," added Louis, who represents the 45th Council District in Brooklyn.  
"January is National Slavery and Human Trafficking Prevention Month. As the first free Black republic, Haiti became a beacon of hope for enslaved persons under colonial rule worldwide," she continued. "Their courage and sacrifices inspired the next generation of revolutionaries who would follow in their footsteps and pursue their own path towards freedom." 
Louis said Haitians' legacy will "continue to live on through our advocacy work to protect human rights and help end human trafficking. 
"This year, I encourage you to take the time to rediscover the beauty, culture, and historical contributions of Haiti towards the development of the free world," she said. "I hope you will join me in our fight to support Haitian migrants and social justice in 2023 and beyond."
On Monday, Haitian Prime Minister Dr. Ariel Henry urged nationals to trust his government to restore democratic rule in the French-speaking  country, as the United and Canada, two of its strongest allies, congratulated Haiti on its 119th anniversary of political independence while acknowledging the socio-economic and political challenges. 
"In this year, 2023, we will have to learn to trust each other. And I ask you to take me at my word when I speak of my Government's desire to do everything possible to reconstitute our democratic institutions," he urged. "It is not with mistrust that we assemble a team to face together the dangers that hang over our common homeland. 
"I want to tell those who have had to close their doors under the unbearable pressure of armed gangs that we are working so that they can resume their activities," added Henry, who came to office in July 2021 following the assassination of President Jovenel Moïse. 
According to the Caribbean Media Corporation (CMC), toth the United States and Canada have imposed economic and travel bans on prominent Haitian national,  including former presidents, prime ministers and legislators, whom they have accused of supporting the efforts by the criminal gangs and others to subvert justice and overthrow the government. 
US Secretary of State, Antony Blinken, in a statement, said last year has seen many challenges for the Haitian people as he congratulated them as they "commemorate your country's long history of independence and celebrate the start of a new year. 
Blinken said that while Haiti faces "a difficult road ahead in the new year", Washington "stands firmly with Haiti as it works to restore security, the rule of law, democratic institutions and economic stability."
Meantime, Canada's Prime Minister, Justin Trudeau, joined in celebrating Haiti's Independence Day on Sunday, noting that, since 1804, on January 1 of every year, Haitians and people of African descent commemorate Haiti's declaration of independence. 
He said the Haitian Revolution, which lasted 15 years, resulted in Haiti becoming the second independent nation in the Americas, the first independent nation in Latin America and the Caribbean, as well as the first country in the Western Hemisphere where Black people successfully overturned slavery.