News
Kwanzaa celebrations to take place in NYC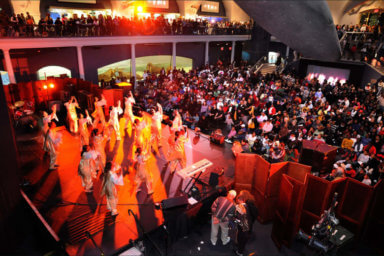 NYC Official Guide says that Kwanzaa, a celebration of African American heritage, takes place Dec. 26 to Jan. 1 each year, and culminates in a feast and gift-giving ritual.
"The holiday is rooted in seven principles known as Nguzo Saba, which promotes unity, culture and community development," the Guide said. 
In Harlem, it said the Apollo Theater hosts dance, music and various family-friendly activities on Dec. 30, while Brooklyn's Kwanzaa Fest is a "party with a purpose." 
The Apollo Theater in Harlem has dubbed this year's event as "Kwanzaa: A Regeneration Celebration", featuring Abdel R. Salaam's Forces of Nature Dance Theatre and Friends.
An Apollo tradition for 17 years, the annual Kwanzaa Celebration returns to the Apollo stage after two years "to bring together families in an uplifting evening of celebration and reflection," said the theater in a statement.
"This powerful evening of intergenerational festivities allows audiences to celebrate the season with moments of unity, self-determination, sharing and giving back to local communities," it said. "Join us for a joyous celebration of Kwanzaa through dance, music and spoken word and honoring the principles of Kwanzaa – family, community and culture." 
The Forces of Nature Dance Theater will be led by critically-acclaimed choreographer Abdel Salaam and hosted by actress Stephanie Berry. 
The Apollo Theater said "the electrifying evening" includes special guest jazz vocalist Pauline Jean and the young performers of the Harlem Children's Zone/Forces of Nature Youth Academy of Dance and Wellness. 
"Join us for a powerful evening of music, percussion, and modern and African dance," the theater urged.  
In his Founder's Welcome, Dr. Maulana Karenga said on the Official Kwanzaa Website that, as an African American and Pan-African holiday celebrated by millions throughout the world African community, "Kwanzaa brings a cultural message, which speaks to the best of what it means to be African and human in the fullest sense. 
"Given the profound significance Kwanzaa has for African Americans and, indeed, the world African community, it is imperative that an authoritative source and site be made available to give an accurate and expansive account of its origins, concepts, values, symbols and practice," he said. 
"Moreover, given the continued rapid growth of Kwanzaa and the parallel expanded discussion of it and related issues, an authoritative source which aids in both framing and informing the discussion is likewise of the greatest importance," he added. "Therefore, the central interest of this website is to provide information which reveals and reaffirms the integrity, beauty and expansive meaning of the holiday and thus aids in our approaching it with the depth of thought, dignity, and sense of specialness it deserves." 
Dr. Karenga said the holiday then, will of necessity, be engaged as "an ancient and living cultural tradition, which reflects the best of African thought and practice in its reaffirmation of the dignity of the human person in community and culture, the well-being of family and community, the integrity of the environment and our kinship with it, and the rich resource and meaning of a people's culture."
He said it is within this understanding, then, that the organization Us, the founding organization of Kwanzaa and the authoritative keeper of the tradition, has established and maintains this website.
Dr. Karenga said that, during the holiday, families and communities organize activities around the Nguzo Saba (The Seven Principles): Umoja (Unity), Kujichagulia (Self-Determination), Ujima (Collective Work and Responsibility), Ujamaa (Cooperative Economics), Nia (Purpose), Kuumba (Creativity) and lmani (Faith). 
He said participants also celebrate with feasts (karamu), music, dance, poetry, narratives and end the holiday with a day dedicated to reflection and recommitment to The Seven Principles and other central cultural values.