Music
Kranium's 'Without You'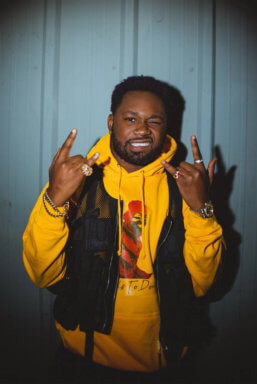 Global Dancehall superstar, Kranium is back with his latest single "Without You," featuring Queen Naija.
"The single is the perfect blend of Dancehall, Afrobeats, and R&B with the smooth vocals provided by Queen Naija," Ronnie Tomlinson, Jamaican-born entertainment publicist, told Caribbean Life.
"Without You (Feat. Queen Naija)" is produced by iO, the UK producer and Afro Soul composer behind songs from Burna Boy's Africa Giant album, J Hus' chart-topping album "Big Conspiracy," and more.
The single also serves as the follow up to this year's earlier release of single "Wi Deh Yah," available for streaming via YouTube now.
"Without You' is about a complicated love story," Kranium said. "There's someone you fall for, that you got in too deep and, too, quickly knowing it wouldn't work. Complicated part is you want it to work."
"Without You (Feat. Queen Naija)' shows the softer side of Kranium and, unlike most of his sexy, party driven catalog, its built on the idea of finding true love, losing it, going through withdrawal, and wanting to do anything to get it back," said Tomlinson, chief executive officer of the New York-based Destine Media.
"The single has the makings to be a true classic and timeless Dancehall record with Queen Naija's verse is the perfect response to Kranium's verse/lyrics and her soulful tone takes everything up a notch," she added.
"With multiple plaque achievements within the US., Canada, and U.K. markets, Kranium has proven to be one of R&B/Dancehall's greatest superstars, driving Dancehall music and culture into the future on his own characteristic terms," Tomlinson continued. "The dancehall superstar is now also currently boasting nearly one billion streams globally."
Over the span of his career, Kranium has established himself as one of the hottest international Dancehall artists in the world.
In 2019, Kranium unveiled his debut album, "Midnight Sparks" to the world.
Tomlinson said the album saw Kranium continuing to craft a simmering sonic cocktail of reggae, R&B, hip-hop and soul, including superstar features from the likes of AJ Tracey, Mahalia, Burna Boy, and longtime collaborator Ty Dolla $ign.
The album showcased fiery singles as "So Me Move," "Just The Style (Feat. Alkaline)," "Talkin' (Feat. PJ)," and "In Charge." Kranium's sparkling debut was followed in 2020 with the release of "Gal Policy," a fan-favorite with a lyric video that accumulated over 14 million views in six months of its release.
In addition, Kranium also unveiled "Through The Window," afterwards closing out the year with a fiery collaboration "Block Traffic (feat. Rytikal)."
In 2021, Kranium released his EP, Toxic, and followed up with the "Wi Deh Yah" single earlier this year.
"A true set the tone record that showcases Kranium's clever lyricism, gift for melodies, and the perfect balance of vocals, 'Wi Deh Yah,' displayed the smoothness he's known for but with a bit of street Dancehall flare," Tomlinson said.