Music
Kranium drops 'Gal Policy' music video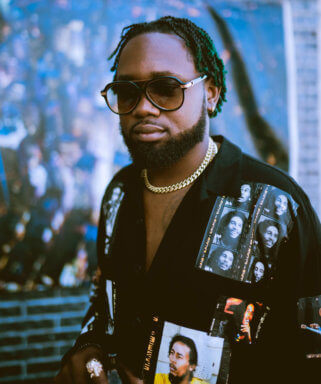 New York-based, Jamaican-born Dancehall pioneer Kranium has released the highly-anticipated music video for his hit song, "Gal Policy."
"The video highlights the crooner's sensual side while flexing a no-holds-barred attitude," Marie Driven, the Brooklyn-based Haitian American entertainment promoter, told Caribbean Life.
Driven, managing partner of PlaybookMG, said director Mills Miller captures comedian and actress Danny Deuces of BET's Hustle In Brooklyn in "an authentic light, made even more real with styling by Venus Rose."
"The combination brings a natural flavor to the modern lover's theme, a tale that tells it like it is," Driven added. "The depiction of strong, smart, independent women today also indulging in some action, sans commitment, is explored as the artist plays the role of Dr. Kranium – a sexual therapist providing unconventional advice the best way he knows how."
The video premiered on Kranium's YouTube Channel on Sept. 24.
"The song had an overwhelming level of momentum and over-performed consistently throughout the quarantine/global shutdown, particularly when other songs/artists could not," Driven said.
She said "Gal Policy" racked in over 14 million views on the lyric video, charted Top 20 in over 20 islands on iTunes, hit no.1 on the Shazam Charts (NY) and is currently trending on charts in the United Kingdom.
"It's a noteworthy accomplishment because, typically, Dancehall songs are meant to be enjoyed in a social setting, often a party vibe," Driven said. "Yet, this song managed to chart week to week without having those elements."
Over the summer, Kranium also dropped a remix of the song with Nigerian singer Tiwa Savage.
Since hitting the airwaves, Driven said "Gal Policy" became the sound of summer 2020.
"So, it's only right that the Melody Gad give us the perfect follow up," a record titled 'Through the Window', which has us anxiously intrigued," Driven said.
"Fans will have to wait a bit to hear the song in full, but should follow him on Instagram @Kranium and turn on their notifications to hear an official snippet," she added.
Kranium is tied to Atlantic Records, having released multiple projects under the label to include the 12-track LP "Midnight Sparks", which featured his previous 2019 hit, "In Charge."
"The melodies and innuendoes highlight his talent in striking a balance in the presentation of musical elements," Driven said. "There are whispers of a new project coming later this fall. So, stay tuned for more from the New York- based, Jamaican-born Melody Gad."
"Gal Policy" video can be seen at: https://kranium.lnk.to/GalPolicyVideo.
Link with Kranium: http://www.officialkranium.com; https://twitter.com/therealkranium; https://www.instagram.com/kranium;
http://press.atlanticrecords.com/kranium; or https://www.facebook.com/OfficialKranium.
The post Kranium drops 'Gal Policy' music video appeared first on Caribbean Life News.