News
Kenya Handy-Hilliard throws hat in ring for 40th CD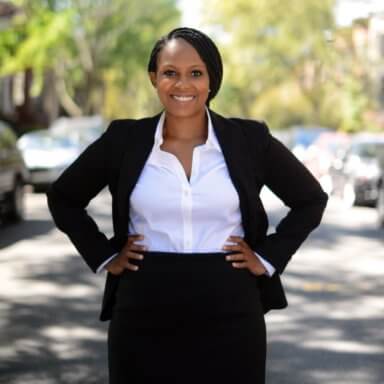 Kenya Handy-Hilliard says her diverse background, experience and commitment to community have mandated her step in declaring her candidacy in the crowded field to succeed the term-limited Dr. Mathieu Eugene as representative for the 40th Council District in Brooklyn.
That district includes the communities of Prospect Lefferts Gardens, Ditmas Park, Prospect Park and Flatbush, as well as parts of East Flatbush, Kensington, Midwood and Crown Heights. 
"A global health pandemic, a historical racial justice pandemic and an economic crisis have created the 'urgency of now' for all of us," Handy-Hilliard told Caribbean Life in an exclusive interview on Tuesday. "I am ready to address and defend the district by championing equitable economic recovery measures, community-led housing development and homelessness solutions, overhaul of our education system, small business recovery, environmental solutions and much, much more."
Handy-Hilliard said that she knew, from living and growing up in New York City and traveling the world, that working with and for people was going to be her life's work. 
Handy-Hilliard said the pursuit of her mission took shape when she became a wife and a mother, as well as a public servant, "on all levels of government," where, she said, she was inspired to help and empower people "more impactfully." 
She said she was raised in Brooklyn, calling Prospect Lefferts Gardens home since she was three years old. 
He mother and father, Edna Wells Handy and Michael J. Handy, were long-time public servants and leaders in government. Handy-Hilliard said she is "proudly married" to Jason Hilliard, a military veteran and fellow life-long public servant, who is also experienced in government and politics. They have two young Brooklynites, Jessica and Jason. 
Through hard work and determination, Handy-Hilliard said she graduated from Smith College in Massachusetts with a degree in psychology.  She said she began her career in public service working for champions of progressive agendas, such as retired Harlem's Congressmember Charles B. Rangel and Central Brooklyn's Congressmember Yvette D. Clarke, on Capitol Hill in Washington, D.C. 
"There, I was able to learn about the intricate relationship between federal, state and local governments," said Handy-Hilliard, stating that she led Clarke's legislative and social justice agenda, which focused on passing a comprehensive immigration reform package that addressed issues of immigrants of the African Diaspora. 
In this capacity, she negotiated the language of the Haitian Emergency Life Protection Act, which created temporary protections for Haitian nationals after the massive 2010 earthquake. 
Handy-Hilliard said the language of this act inspired the Obama administration's Haitian Family Reunification Parole Program (HFRPP) in 2014, which supported many Haitians in her own community. 
In 2014, she said she moved back home to New York City to begin the next phase of her career, serving as the Brooklyn Director in the New York City Comptroller's Office. 
There, she said she learned the importance of mobilizing the community "to ensure the government is accessible and held accountable by the people." 
After cultivating community organizing skills and developing an  understanding of City budgets and economy, Handy-Hilliard said she continued her public service as Brooklyn, Queens and Staten Island Director at the New York State Office of the Attorney General. 
At the NYC Department of Investigation, Handy-Hilliard said she learned first-hand about the inner workings of local government, and gained better understanding "where the pitfalls and vulnerabilities of city government lie "and why it so often fails its citizenry." 
"I was frustrated by the lack of government transparency, and want to use my skills and passion to ensure that the government is doing what it's supposed to do: work for the people," she said.