News
Jump up for 'One Love' Caribbean Carnival Virtual Road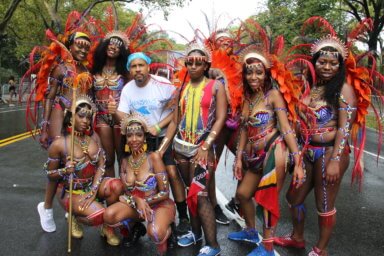 In light of the coronavirus (COVID-19) pandemic, organizers of the largest carnival parade in North America urged Caribbean nationals and other patrons to participate in Monday's virtual Caribbean Carnival celebration in Brooklyn.
"Fun, food, and excitement!" exclaimed Trinidadian Rhea Smith, board member and first vice president of the Brooklyn-West Indian American Day Carnival Association (WIADCA), organizers of the annual, massive carnival parade on Brooklyn's Eastern Parkway, in a Caribbean Life interview.
"And, this year, you don't have to leave your home," she added. "Grab your computer, fit your costume, invite your friends and get ready to jump up for 'One Love' New York Caribbean Carnival Virtual Road.
"We are so excited to present our third virtual event for the Carnival season," Smith continued.  "You won't miss a beat. We plan to showcase the best our Caribbean culture has to offer, just like the last 53 years.
"We can't wait to take back the parkway in 2021," Smith said. "But, in the meantime, let's get 'Back to Love' again."
In celebration of WIADCA's 2020 theme, "Back to Love," Smith said this year's Virtual Marshals were: Belizean-American Ensefieri Felix, founder of Caribbean American Pride; Jewish Jamaican-American social activist Mayaan Zik, founder of Ker a Vel, a Yiddish rallying cry urging to "turn the world over" in pursuit of a world liberated in justice and peace; and Jamaican-American Nikiesha Hamilton, founder  and chief executive officer of the Brooklyn-based Afeni Creative Studios.
Smith said Monday's New York Caribbean Carnival "One Love" Virtual Road was a 12-hour celebration, starting at 9 a.m., featuring live DJ music "that allows masqueraders to still participate safely from home on Zoom."
"Get ready for the Virtual Road," she urged. "Join us along with popular DJs like Int'l DJ Spice, DJ Stakz, Kevin Crown, Private Ryan, Riggo Suave, DJ Norie, Back to Basics, Soca Prince, Enternal Vibes, Young Chow, DJ Aswaad & Lurbz, Barrie Hype, DJ Levin Chin, DJ Tate and more, as we celebrate a colorful, interactive and festive New York Caribbean Carnival 2020.
"For our loyal costumed masqueraders, you can rock your designs on Zoom and even win a prize," she added.
Smith said the month-long virtual carnival presentations started on Friday, Sept. 4, with Youth Fest, a talent show, highlighting young, emerging artists; and Brass Fest.
She said Brass Fest featured a virtual "at home' jam headlining popular Trinidadian "musical ambassadors" Kes the Band; Trinidadian soca artist Nailah Blackman, on stage with Kes for the very first time; Trinidad Road March champ Iwer George; Tabou Combo, celebrating its 52nd anniversary as Haiti's premiere Kompa band;  and St. Lucia's Motto, Teddyson John, among others.
All carnival festivities culminate in a grand finale on Saturday, Sept. 26, with "Panology: Origins," a virtual steel band showcase, featuring soloists from around the globe, and an educational journey, Smith said.
The post Jump up for 'One Love' Caribbean Carnival Virtual Road appeared first on Caribbean Life News.